The House of Creed present a unique Holiday Leather Explorer Collection
The House of Creed is delighted to present a unique Holiday Leather Explorer Collection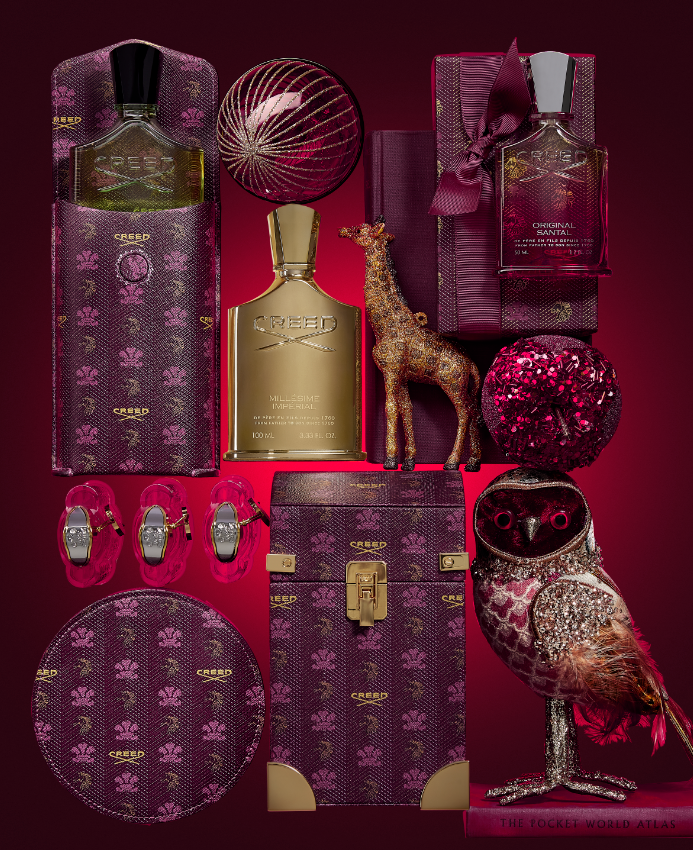 For the first time since the creation of the brand in 1760, the House of Creed has created seven exclusive leather products, all developed closely with Olivier Creed himself to bring to life the wonderful leather Explorer Collection. Honoring a 260-year-old legacy, it is an exquisite way to showcase the elegance and savoir-faire of the brand.
The Leather Explorer Collection was hand-crafted using the finest Italian burgundy leather and is completed by a beautiful royal grey suede interior, a homage to the history of the brand, born after a pair of scented leather gloves were delivered to King George III. A celebration of the past with a modern yet traditional design.
Surrounded by a team made up of three brothers from a family run artisanal workshop. Creed designed and developed leather trunks, two perfume sleeves and two candle holders. Exceeding all expectations, the trunks were created using the exclusive monogrammed Creed leather with polished brass hardware on the lock and feet. An exquisite brass Creed plaque on the inside of the trunks completes these incredible objects d'art. The interior bottle fixture is removable transforming luxury gifting into beautiful accessories.
Beautifully crafted Creed candles are available in two formats 650g and 1680g, our clientele will discover the delicate scents of Birmanie Oud and Vanisia, which are inspired by Olivier Creed's travels around the globe. A delightful addition to any home, the candles are beautifully presented and dressed in an exclusive burgundy leather holder which can be used to keep the most precious of possessions forever.
About The House of Creed
It began as a bottle of Royal English Leather commissioned by King George III after becoming enamoured with a pair of Creed scented gloves. Passed from father to son for seven generations since its London founding in 1760 by James Henry Creed, The House of Creed has been handcrafting uncommon fragrances for royal houses and discerning patrons for over 250 years. As the only fragrance house to rely on an ancient infusion technique to capture the raw and rare materials of each perfume, Creed has created a legacy of unrivaled scents, both commissioned and worn by history and Hollywood's greatest names. Based out of Paris today, each scent is weighed, mixed, macerated and filtered all by hand in the highest tradition of the House's founder, James Creed. Today, Sixth Generation and Master Perfumer Olivier Creed and his son, Erwin Creed, carry on the craft from their Parisian laboratory continuing the art of Creed's perfume making—a timeless, yet modern take on history, bottled.
Please visit or call
CREED BOUTIQUE – BEVERLY HILLS
9533 Brighton Way, Unit A-1
Beverly Hills, CA, 90210
Store: +1 (424) 355 0002