Summer Garden Party 2019 Recap: Induction of the 98th Chair of the Board of Directors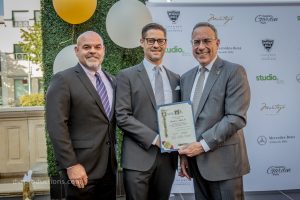 The Chamber welcomed a record number of over 600 Members and guests to the annual Summer Garden Party Presented by Montage Beverly Hills, Studio at Beverly Hills and Mercedes-Benz of Beverly Hills, on Wednesday, June 26, 2019. Summer Garden Party took place at the beautiful Beverly Canon Gardens in the heart of the Golden Triangle and serves as the Chamber's annual member appreciation celebration and board installation night.
The evening kicked-off with host Ariana Escalante welcoming guests to the Installation. Guests enjoyed remarks from Presenting sponsors: Mr. Rick Reiss, Montage Beverly Hills, Mr. Patrick Nally, Tishman Speyer, and Mr. Frank Murphy, Mercedes-Benz of Beverly Hills. Following this, Mr. Todd Johnson, President & CEO, Beverly Hills Chamber of Commerce, thanked the dignitaries in attendance, as well as the wonderful Chamber Ambassadors, including Chamber Ambassador of the year, Mr. Michael Fiorentino.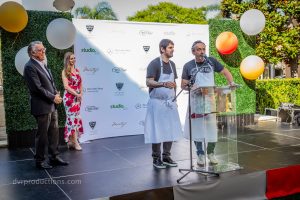 Next were remarks by the outgoing Chair of the Board, Charles L. Black III as he spoke about the many accomplishments of the 2018-2019 year. Following the Certificate of Recognition Ceremony led by Vice Mayor Lester Friedman, Deborah Kallick was inducted as the 98th Chairman of the Board of Directors. Ms. Kallick then addressed the audience and highlighted what she hopes to accomplish during her term:
"We are truly lucky to have superb family-owned stores and restaurants, and a premier roster of hotels and luxury brand flagships. Each one of them is vital to our community and together, they are the heart of our prosperity. They make us unique. They make Beverly Hills thrive. So: in the coming year, my top goal is for us to go all-out for our local businesses.
"If you have ever run a small business, or if you know someone who has, you know that it is hard work. Really hard work. And it is not getting easier. There's intense competition from places like the Century City Mall, the Beverly Center and the Grove; traffic patterns in and around our city are changing; rents keep rising; buying habits keep changing.
"There is a lot to contend with, but our businesspeople are incredibly savvy and resilient, and the Chamber has always worked hard to be their ally. Today, that alliance is more important than ever.
"So, I promise you, we're going to make sure that local businesses are the top priority for the Chamber. We will remember that their success is our success; we'll keep partnering with the city on their behalf; and we'll continue to be passionate advocates for them both locally and in Sacramento."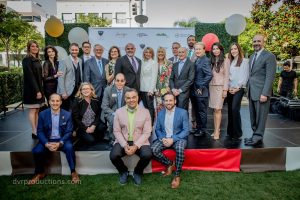 Guests then enjoyed the rest of the party by mingling, tasting and sipping while enjoying exciting entertainment from Kirschner Creative Artist's Harpwoman, Ellie Choate. Artists Creating Entertainment featured lollipop aerialists dressed in extravagant glamour, bringing the garden atmosphere to life.
Thank you to each and every sponsor, staff and crew member, Board of Director, Chamber Ambassador, and all of our volunteers for making the evening go so seamlessly. Special thanks to all of our event sponsors who made the night possible, including: Presenting Sponsors, Montage Beverly Hills, Studio at Beverly Hills, and Mercedes-Benz of Beverly Hills; Gold Sponsors, Cedars-Sinai Health Systems, Eldridge Industries, Kennedy Wilson, and Artists Creating Entertainment; Silver Sponsors, Torrey Pines Bank, Ten Thousand, L.A. Metro, MCE Check-in, Perfect Pic LA, Kirschner Creative Artists, and Vydeo; as well as reception sponsors: Comoncy, Coral Tree Café, Del Frisco's Steakhouse, Luxe Rodeo Drive Hotel, Mastro's Steakhouse, Montage Beverly Hills, AsomBroso Tequila, buzzbox premium cocktails, Morandell Imports, Icelandic Glacial and Rekorderlig Cider.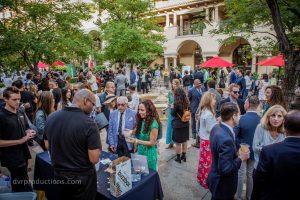 Last, but not least, thank all of our Members for sharing the summer evening with us. We hope everyone had a fabulous time and look forward to seeing you around Beverly Hills this summer!
For a listing of the 2019-2020 Board of Directors, click here.
To view the official event photography shot by DVR Productions, click here.