Music, Wine, Cheese, and Chocolate! Experience a full-sensory, custom-blended holiday tasting with Five Senses Tastings!
Posted by Admin on October 19th, 2017
Categories : City Insights, Events, Industry News / Trends / Reports / Features
Industry : Events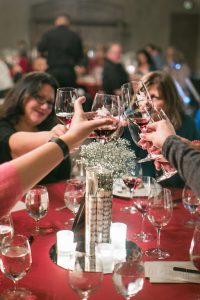 When was the last time you cried over a piece of cheese?
No really, I mean it. I'm going to guess the answer is… never (though if it isn't, I'm dying to know what cheese that was!) Now ask yourself if you've ever cried at a piece of music. I'm going to guess the answer is… yes, and at least once.
Why is this? Because harmony, melody, and rhythm are primitive impulses, embedded in us since birth, sometimes before. Why then, do we so often accept that music be relegated to the background, to non-specificity? Bringing sound out of the background and into the forefront enhances our emotions and memories and is at the core of how Five Senses Tastings approaches event composition.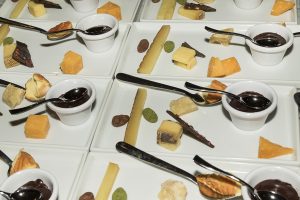 Here's another question: Do you like music? wine? cheese? chocolate? If so, read on.
No time of the year is more about sensory indulgence – in every sense of the word – than the holiday season. The smell of gingerbread baking, the sight of twinkling lights, the taste of sweet peppermint, the touch of Santa's velvet (or more likely, polyester) hat… and the merry tunes of holiday music. This season we bring all those sensory elements together for an immersive, innovative, full-sensory experience in your home or business. We creatively meld holiday tunes and stories from around the world with carefully curated wine – or cocktail – pairings and accompanying nibbles and sweet treats. It's all the things we love the most put together in a way that is meaningful to you.
Allow yourself a break from the hustle and bustle. Slow down, breathe, be mindful, and engage your senses in a truly meaningful experience. We will compose an unforgettable evening for you and your friends or business colleagues that incorporates elements of your own personal or company story while introducing you to delicious new musical and culinary flavors. Our events are a fun and powerful way to deliver a memorable experience to your hard-working colleagues and employees, to differentiate your business for special clients and investors, or to end the year on a high note!
Already set for the Holidays but wondering about your Quarterly business meeting, Valentine's day, or a personal or family milestone coming up? We work with private, corporate, luxury, and nonprofit clients to create the perfect, intimate event for up to 40 people. We also provide consulting services for larger events and fundraising galas.
Some of our recent clients include Diane von Furstenberg, Héritage Fine Wines, the Oakland Symphony, the Goethe Institute, LA Wine Tasting, Europa Village Winery, Douglas Elliman, and private clients in and around the LA metro area. We are also proud to partner with LAWineFest.
---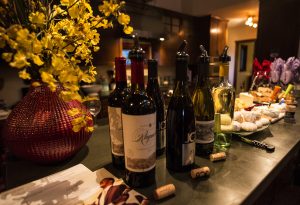 Five​ ​Senses​ ​Tastings​ ​is a boutique, special experience company that​ ​elevates​ ​people's​ ​sensory understanding​ ​through​ ​the​ ​purposeful​ ​and​ ​meaningful​ ​engagement​ ​of their​ ​five​ ​senses,​ ​enabling​ ​them​ ​to​ ​communicate​ ​deeply​ ​and experience​ ​profoundly.​ Combining the art of storytelling with the science of taste, smell, and sound, Five Senses Tastings creates custom-blended, ​full-sensory​ ​events​ ​that weave​ ​a​ ​diverse, global​ ​narrative​​ ​guided​ ​by​ ​live music​ ​and​ ​enhanced​ ​by​ ​flavor. Five Senses composes events for corporate, nonprofit, luxury, and real estate clients as well as for important personal and family occasions. By diversifying​ ​guests'​ ​palates and ​amplifying​ ​their​ ​sensory​ ​world,​ Five Senses Tastings' unique and fully-customized events encourage​ ​harmony​ ​between​ ​the​ ​senses and allow guests to experience their senses in an entirely new way.
CEO, Kala Maxym
Her zest for a rich life, filled with meaningful, immersive experiences, led Kala to found her event composing business, Five Senses Tastings. Kala composes occasions for people to engage and experience the stories of their lives fully and purposefully, harnessing the power of music and of our five senses to communicate deeply and affect profoundly. Stemming from an incredibly diverse professional background in music, the arts, federal government, gemology, startups and more, Kala calls on her creative energy to compose multi-sensory events for her clients, combining music, wine, cheese, and chocolate into a unique and fully-customized storytelling experience that actively and meaningfully engages our five senses.
Where can you see us in action?
Thursday, November 16, 2017, you'll find us at Jo Malone London on Brighton Way in Beverly Hills for a special musical pairing event! With a special focus on the confluence of smell and sound, this event is sure to be a real treat for the senses!
Want to learn more?
An initial consultation with us is, of course, complimentary. We can't wait to talk to you so please email us at info@fivesensestastings.com, visit our website, or just pick up the phone and give us a call (917) 690-2979. Yes, yes, that's a New York number but clearly I came to my – sorry for the pun – senses and made the move to the best coast!
Share This Page: