Members-Only Medicine in Beverly Hills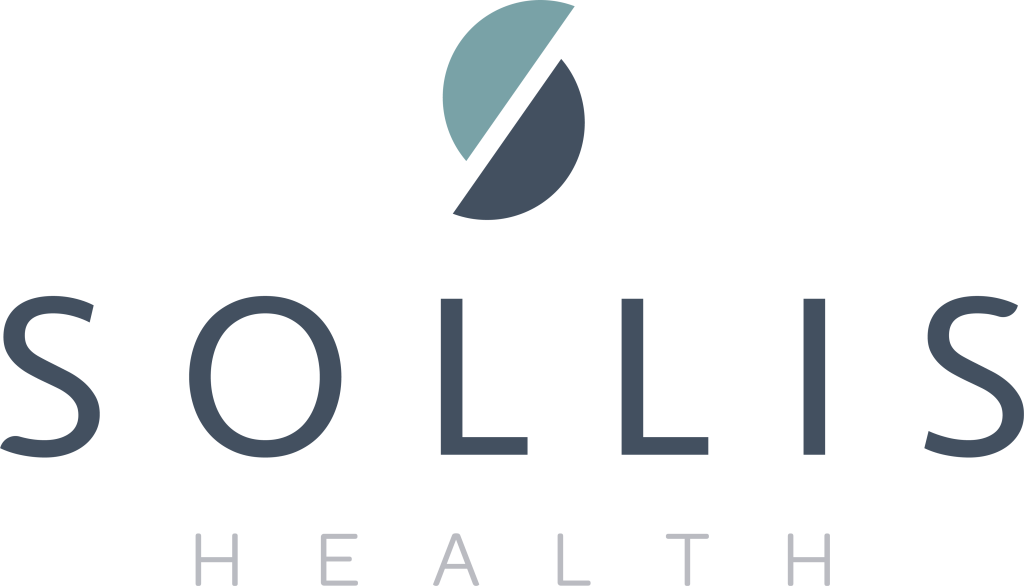 Sollis Health is a members-only 24/7 doctor, ER and concierge service rolled into one. With private centers in Los Angeles,  New York, The Hamptons, Miami and Palm Beach, Sollis is designed to handle emergencies, common illnesses and everything in between – with no wait and no appointment. Their comprehensive approach expedites your path to treatment, with ER-trained physicians who've seen it all, on-site diagnostics and the nation's leading specialists and hospitals on speed dial.
Sollis' flagship center in Beverly Hills is open 24/7 and equipped with state-of-the-art radiology and an on-site lab. The flagship center is complemented by their Santa Monica clinic, which provides expert and private urgent care on the West Side.
So what does your Sollis Health membership include?
Saving Your Most Valuable Asset — Time
One of the greatest benefits of a Sollis membership is the time it saves members by making medical care both on-demand and streamlined. Just take a look at the chart below.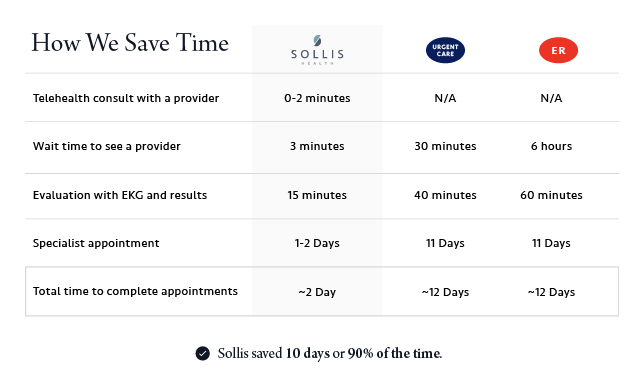 Unlimited Doctor Visits
At the core of the Sollis Health membership is unlimited access to their first-class medical centers, many of which are open 24/7 – 365 days a year. Members can come in as often as they need — no appointment is required, and no wait is guaranteed. From common illnesses to emergency care, their ER-trained physicians are ready for anything. Sollis' in-center physicians are also available 24/7 for virtual visits — via call, text or video — ensuring you'll never have to Google your symptoms in the middle of the night again.  
Unlimited Testing  
Another great value is that Sollis members unlock unlimited rapid, PCR and antibody testing – all of which is available without a wait at their centers or via their at-home service. Membership also includes most routine lab work 
At-Home Care
Sollis Health also brings its care directly to its members with their House Calls service — where they perform everything from stitches to X-rays in the comfort of their homes. Sollis can also arrange for ongoing at-home nursing and hospice care to ensure treatment is managed under any circumstance.
On-Site Imaging & Lab
With advanced imaging equipment and a state-of-the-art lab on-site Sollis is able to remove the hassle of the traditional diagnostic process and streamline the path to treatment. Members can even receive their lab results in real time while at the centers — no more anxious waiting period and incessant follow up calls. Their MRI and CT technology can also be used for preventative care — screening for signs of cancer and other life-threatening diseases even before symptoms appear enabling early intervention & treatment.
Specialist Access & Care Navigation
Finding the right doctor often feels like a job. Sollis does the legwork for patients — developing a trusted network of primary care physicians, specialists and hospital partners. Sollis can help their members bypass waitlists to get an appointment in days, sometimes even right away. Sollis provides patient advocacy services and quarterbacks patient care across providers. 
Travel Medicine Concierge Desk
From breaking down the continuously-shifting global entry requirements to providing medical documentation, facilitating conversion of vaccination proof to EU standards and securing Covid testing at members' destinations, Sollis takes the stress out of health-related travel concerns.
The concierge desk expands upon Sollis' travel-medicine program, which offers 24/7 global telehealth and local care-coordination. Should an unexpected injury or illness arise while traveling, members can call a 24/7 hotline to connect with Sollis' team of ER doctors for a virtual visit and their Care Navigation team will find and facilitate access to local care including medevac services, if and when required.
Sollis Annual Membership Fee
Starting at a base annual price of $3,000, with special plans for couples and families, a Sollis Health membership includes unlimited visits to all Sollis locations, unlimited Covid testing and routine lab work, expedited specialist appointments, patient advocacy and more. 
To learn more about personalized membership packages and an exclusive offer for the Beverly Hills Chamber of Commerce contact Solli's membership team or call their Los Angeles Membership Director, Jean O'Loughlin Avdul directly at 310.862.2039.