liv. technology – Home Theater: The ultimate set-up
Home Theater: The ultimate set-up
Your home theater should be a space where you can relax & unwind, entertain, and indulge in your favorite movies. It is a space for the whole family, friends and loved ones to come together and enjoy a little bit of luxury. In order to ensure the optimum viewing experience, there are several factors that are important to consider: this is your guide to the perfect home theater.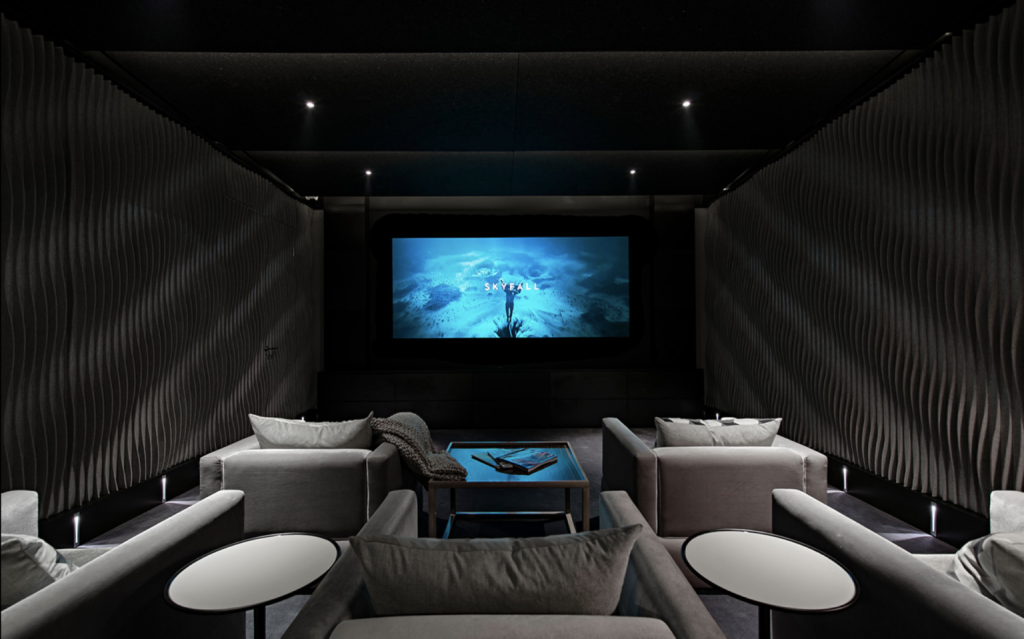 To note: In this instance, we are discussing a dedicated, purpose-built movie room. In our next post we will discover how to optimise your media or multi-purpose room for a cinematic experience. 
Home Theater: Lighting
The right lighting combinations can enhance your cinematic experience and is something that often doesn't spring to mind when discussing watching a film in a dark room!  A movie room should never be pitch black as it will strain your eyes to watch the screen, so a subtle solution that adds just enough illumination to navigate around the room and avoid tripping, while not distracting from the screen is ideal.
Indirect lighting can be layered to suit the desired ambience of the room. LED down-lights as well as in-ceiling star lights and stair lights can be adjusted and combined to suit your atmosphere, whether it's a more relaxed documentary prompting a conversational environment, or a full cinematic experience to watch the latest Marvel movie that requires full silence! It is certainly a feature worth investing in and planning with an integrator to create your perfect home theater.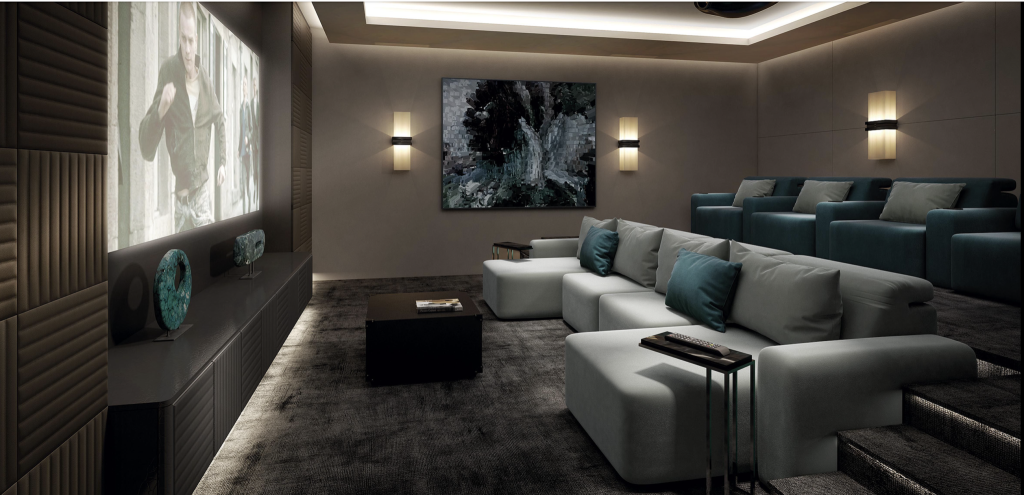 Home Theater: Sound
The market is flooded with great sound system options for your dedicated home theatre room, from 5.1 surround sound to full Dolby Atmos. From on-wall speakers to in-wall speakers and fully invisible systems, there is a large variety to choose from within a range of budgets. Your choice may be dependent on several factors, room size and shape dictates some of these options but with a knowledgeable integrator, most rooms can be made into a home theatre to suit you.
Home Theater: Display Screen
A projector at 4K resolution is the most suitable display method for most home theater's, with pin-sharp images and a widescreen. Brands such as Canon, B&W, Sony and Steinway Lyngdorf are popular choices, and all offer high-quality solutions. For the screen, there are acoustically transparent options meaning in-wall speakers can be mounted and hidden behind the screen.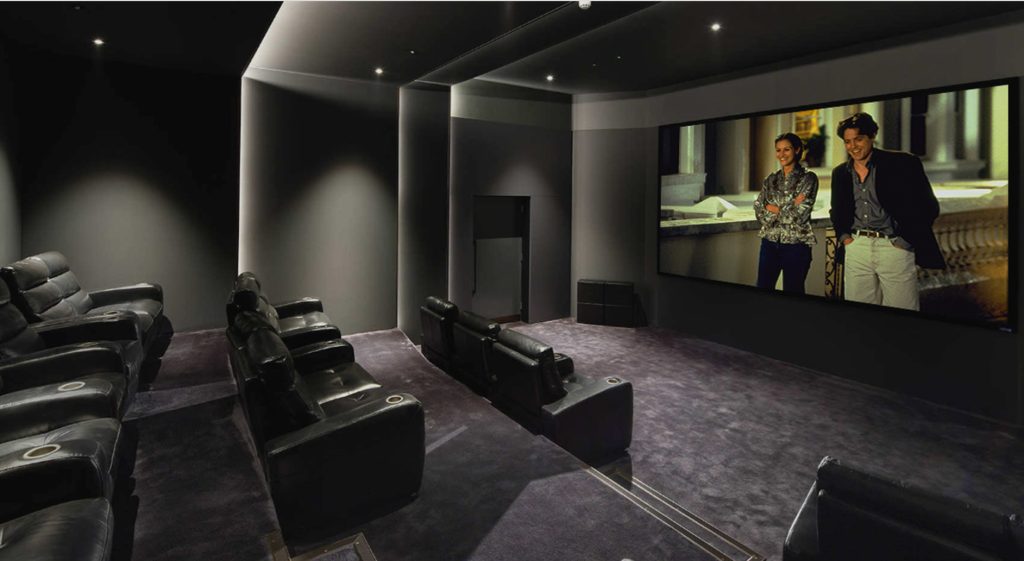 Home Theater: Automation
Previously home theaters required multiple remotes and took time to set up each time you wanted to watch something. Now, through home automation your theatre becomes active at the touch of a button, making it a walk-in and relax environment. As well as turning on your audio-visual system, you can also adjust lighting and climate from your seat.
Using pre-set 'scenes' (a set combination of actions that the one push of a button will implement) your motorized screen drops, climate sets to the desired temperature, the lighting dims and the sound begins. Some systems even have features that should your phone ring, or any interruption electrically occurs on your end such as your Savant doorbell ringing, the film will pause and the lights will brighten, meaning you never miss a thing.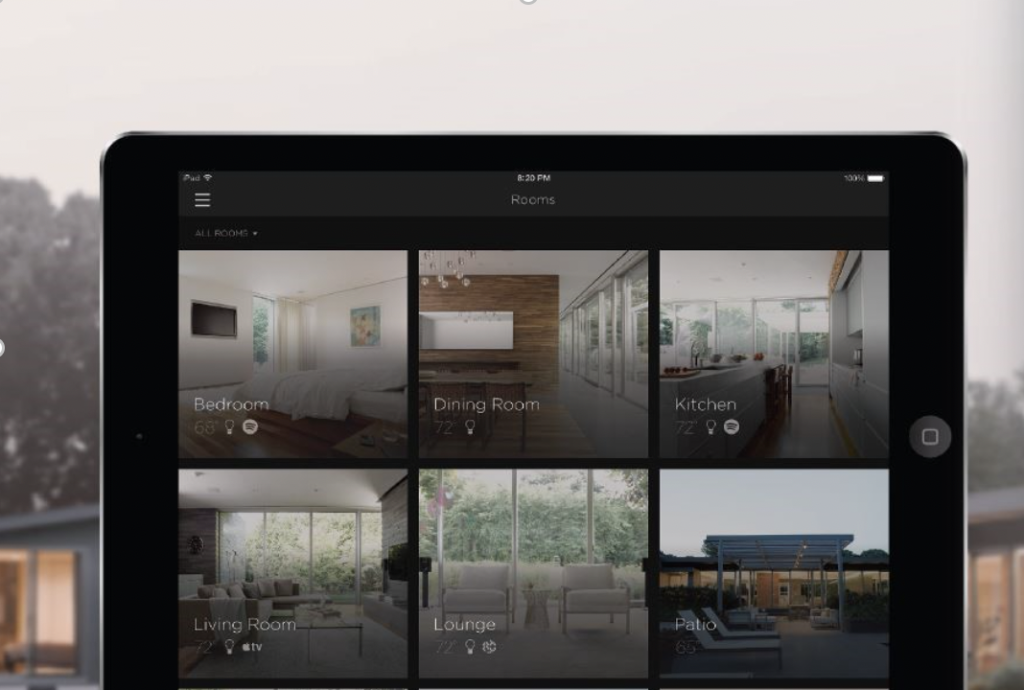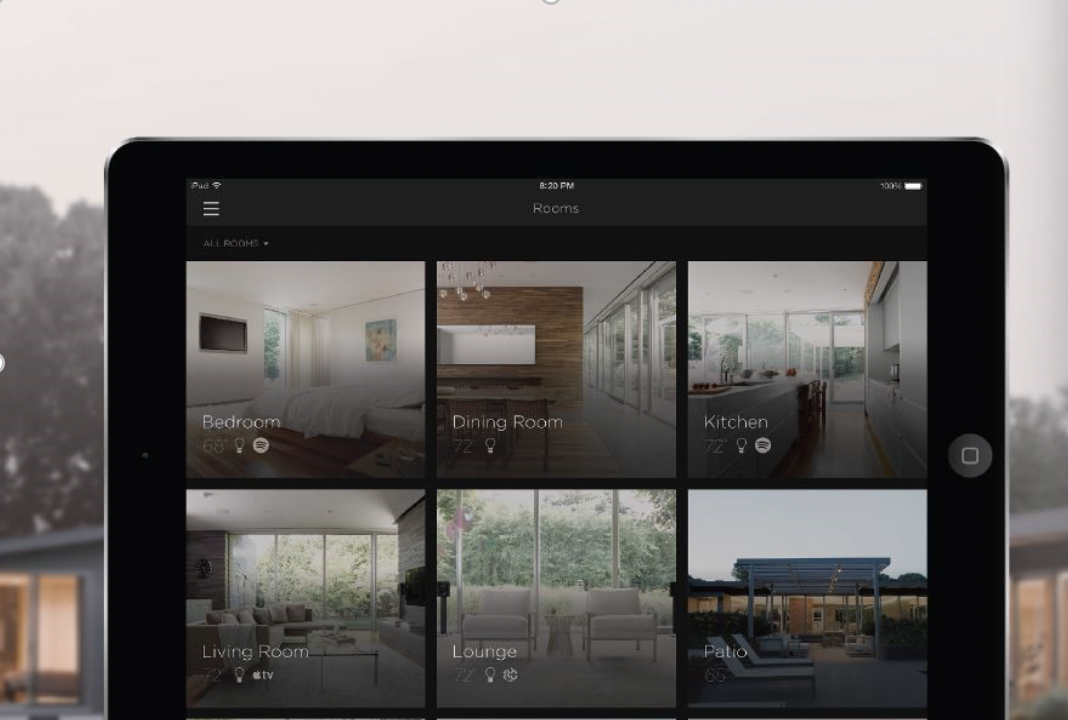 Home Theater: Climate control 
Similarly, to lighting, climate control is something that might not be at the forefront of your home theater vision but is one that fully makes the experience. No one wants to watch a movie in a cold room, and vice versa in the hotter summer months it's important to have an environment that you can relax in without having to think about the temperature. Through your home automation set-up, you can pre-set your room from your control app, wall panel or remote to be the optimum temperature before you start your screening.
Home Theater: Design
Technology integrators are masters of technology, but even better home theaters are produced in conjunction with interior designers – a cinema can be beautiful and so it should be. One of our personal favorite take-over projects was with the designer's SHH shown in image one. Their vision for this project was to create a space that was aesthetically pleasing and allowed you to be immersed in whatever you watched. Having a professionally designed space maximizes your enjoyment and the technology blends seamlessly to your vision.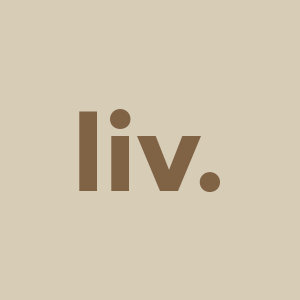 liv. technology are smart technology innovators, specializing in automation for homes, businesses, and yachts. Born in London and having expanded to New York and Los Angeles, team liv. care immensely about clients with a universal understanding of what we they are trying to achieve: to provide turnkey technology services around the globe and be the best at it.
Website: https://us.liv-technology.com/
Contact:
8383 Wilshire Boulevard
Suite 800 Beverly Hills
CA, 90211
Social media: livtechnology