First Bank – Need to move a personal line of credit or consolidate high-interest debts?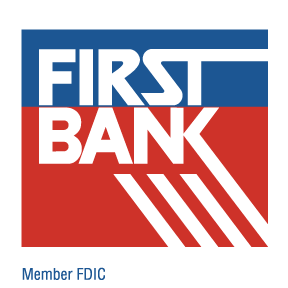 ---
Consider a Home Equity Line of Credit
As a homeowner, you may realize that your home's rising value and your credible payment history can give you access to affordable equity. Have you considered the advantages of tapping into your home's equity to consolidate other high-interest credit card debts or personal loans into one affordable monthly payment?
According to the credit bureau Experian, the typical American household carries an average credit card balance of approximately $6,200. Plus, nearly half of all American households carry some type of credit card debt. If this sounds like your situation and you're a homeowner, then a low-interest, flexible home equity line of credit, or HELOC, may be the right option for you.
"In addition to the traditional uses of a home equity line of credit, like home improvement and remodeling funds, we also want to emphasize how important it is for people to have access to emergency funds in case they need them," said Anna Stavaridis, Banking Specialist for First Bank. "Plus, it can be more cost-effective to consolidate other debts to significantly lower fixed rates that are offered through a HELOC." She commented that homeowners may want to check into a home equity line of credit in order to pay off other high-rate personal loans that may have been taken out or are being closed out by other larger institutions.
Here are just a few of the benefits of a First Bank home equity line of credit:
• Money when you need it! Access to a revolving line of credit that's often up to 80% of your home's value. Click for more details.
• Low monthly payments! Repayment options that are interest-only for up to 10 years.
• Affordable! Enjoy no closing costs and low rates.
• Convenient! Access money easily at First Bank locations, with checks, or through eBanking.
•Special offer for First Bank clients! Check out First Bank's special HELOC offer!
According to Stavaridis, "It's best to have the home equity line of credit in place and not need it, than need it, and not have it."
To read more about a home equity line of credit, read Invest Back Into Your Home with a Home Equity Line of Credit.
To find out how to take advantage First Bank's home equity line of credit to consolidate debts or pay off other higher-interest personal loans, simply contact First Bank online or call the Marina Del Rey, CA branch at (310) 751-0995. It's a simple and fast process with no hidden fees. You can free up room in your budget every month and secure funds in case of an emergency, with a First Bank home equity line of credit.
---
About First Bank
First Bank, a subsidiary of FB Corporation, is one of the largest privately owned banks in the country. As a family-owned business with four generations of independent, single- family ownership, First Bank offers the stability and experience with long-term planning that helps businesses and the communities in which they operate grown and thrive. With more than $6.7 billion in assets and nearly 70 locations throughout California, Missouri, and Illinois, First Bank has developed a relationship-driven approach to offer comprehensive solutions for clients in commercial and consumer banking, wealth management, mortgage banking, and more. For information, visit www.first.bank.