BOLD Recap – Beverly Hills Open Later Days Summer 2017
BOLD – Beverly Hills Open Later Days Summer 2017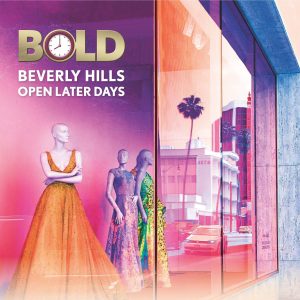 As the beautiful Beverly Hills summer is coming to an end we want to recap on the success of the BOLD Summer Campaign – Beverly Hills Open Later Days. Thank you to all of the businesses who supported this program by keeping your doors open late and supporting the BOLD Summer Campaign, and thank you to who shopped Beverly Hills later days this August.
This wasn't your ordinary program or initiative, this was a movement to bring life and vibrancy to our fine city. BOLD nights kicked off August 2 with the Lily Pond Art Ceremony; a 3D marvel that transformed the original Beverly Gardens Park Lily Pond and this was only the beginning. Throughout August, there were an array of events Thursday, Friday, and Saturday evenings. BH Open Late engaged our community as well as visitors with live entertainment, fashion influencer events and restaurant specials throughout the Golden Triangle.
"From #BHOpenLate Laduree Gathering hosted by Mayor Lili Bosse & BOLD Influencer Dawn McCoy, our animated live performance of models strutting down the street, to the #OnlyOnRodeo floral art installation and its enormous social media impact, our BOLD Summer Campaign was a monumental success!" said Rodeo Drive Committee. "Summer Nights Seats and Treats were a HUGE hit, along with exotic car Ride + Drive experiences! Our partnership with the fabulous TV personality and fashion stylist Brad Goreski and Social Influencer Marianna Hewitt showcasing the luxury offerings from Ferragamo and Louis Vuitton made Summer Style Sessions evenings to remember!"
The BOLD Summer Campaign, hit over 50 million digital impressions for Rodeo Drive!
To learn more about BOLD and what the City has planned to continue this momentum for our business community, please join the Beverly Hills Chamber at Greystone Mansion on September 27, 2017, from 5 – 7pm for An Evening with the Mayor: State of the City Address by our BOLD Mayor Lili Bosse. Pre-registration is required and limited tickets remain. For more information and to purchase tickets, click here.