The West Hollywood EDITION, Where Modern Meets Luxury & West Hollywood Meets Beverly Hills

Located at the intersection of the palm tree lined North Doheny Drive and historic Sunset Strip, The West Hollywood EDITION symbolizes the modern luxury intersection where West Hollywood meets Beverly Hills.
For those unfamiliar with the EDITION brand, this new generation of luxury was conceived by Ian Schrager in a partnership with Marriott International as an unexpected and refreshing collection of individualized, customized, one-of-a-kind hotels.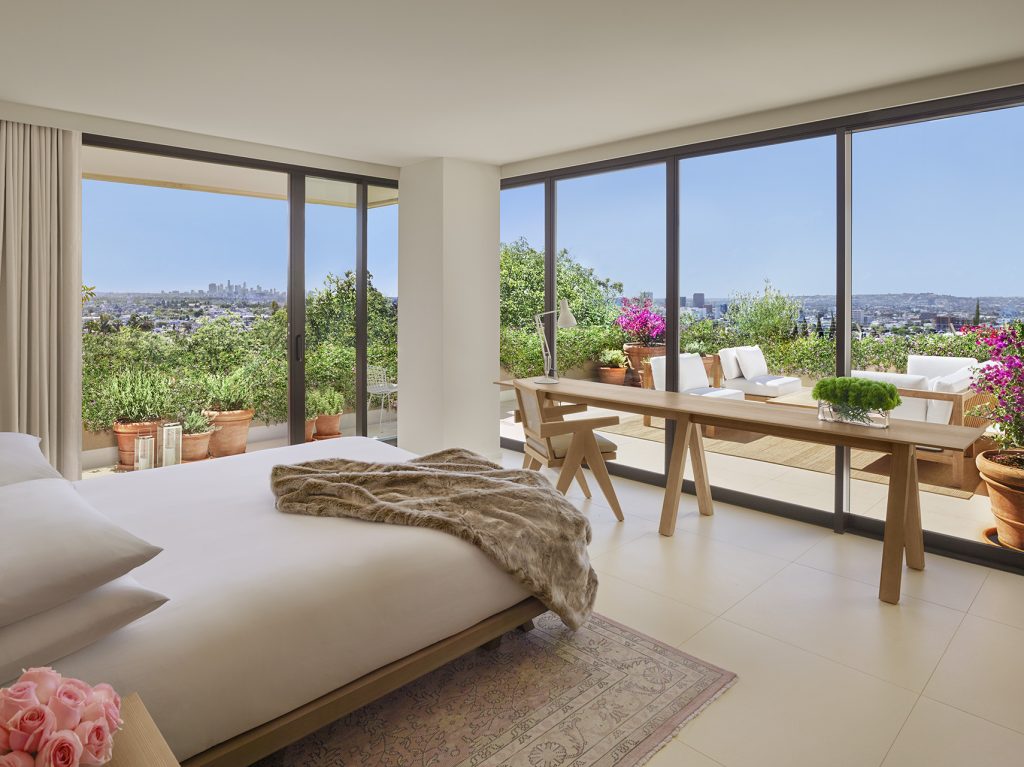 Opened November 2019, the modern, minimalist building has once again opened its Western Red Cedar doors into the dramatic lobby and the sophisticated outlets that lay beyond. This includes 140 guest rooms, 48 impressive suites and two sprawling penthouses, 20 luxury residences and over 6,500 square feet of meeting and event space as well as a screening room for up to 90 guests. All guestrooms feature a soothing neutral palette with whitewashed teak wood throughout, reflecting the unique light and lightness of Los Angeles.
---
For the epicurean, the hotel boasts a culinary program by Michelin-starred Chef John Fraser, including the signature restaurant Ardor and all-day dining at The Roof featuring panoramic views that stretch from the ocean of Santa Monica to the skyscrapers of downtown Los Angeles.
A California-native, Fraser refined his expertise under the mentorship of Thomas Keller at The French Laundry and perfected his technique at lauded Paris establishments including Taillevent and Maison Blanche before becoming executive chef at Compass where he was awarded two stars by The New York Times. Focusing on the essence of food, Fraser approaches each dish at Ardor simply, using produce sourced hyper-locally through partnerships with farmers. Aptly, the restaurant features a lush foliage-enclosed outdoor patio as well as a vibrant verdant interior complimented by rich wooden tones throughout.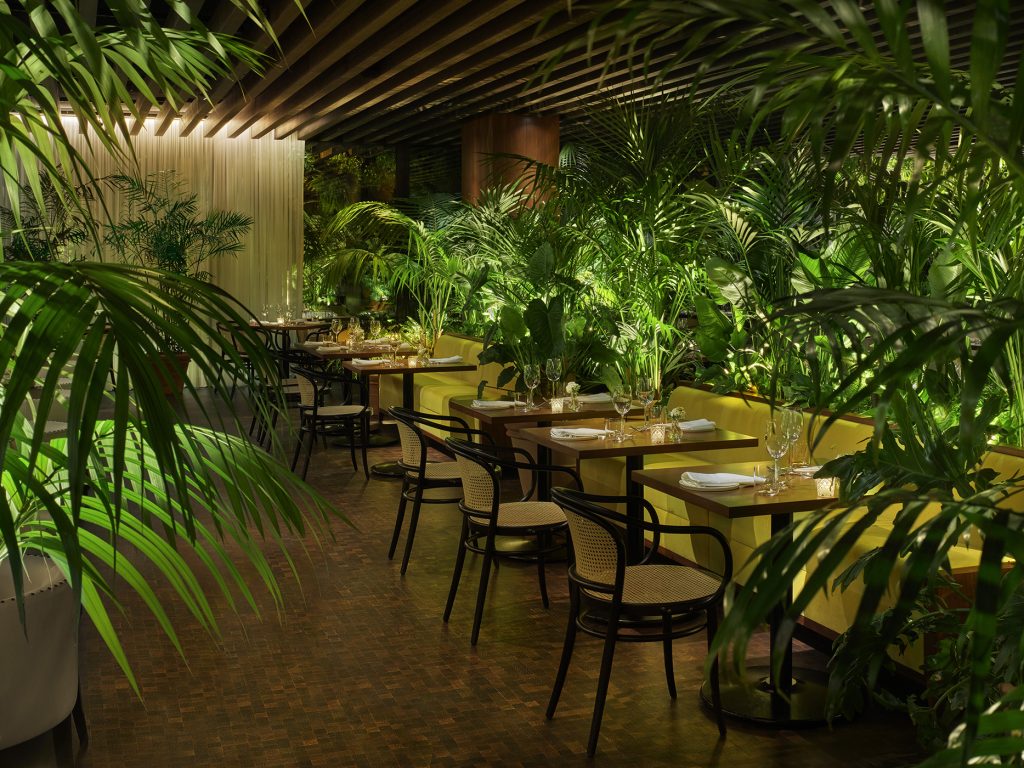 Chef John Fraser shares, "After our doors were closed for over a year following an initial whirlwind opening in 2019, Ardor re-emerges with our most popular dishes alongside new creations, developed in recent months. We are so thrilled to share Ardor's locally-inspired menu with our neighbors, hotel guests and visitors alike."
Tandoor Carrots, for example, sees Californian table carrots cured for 24 hours, in a mix of sugar and salt, before they are steamed and finally roasted. Served on a bed of NIX hummus with a smoked paprika vinaigrette, the dish includes fried eggplant and is finished with parsley, mint and dill.
The Arugula Farro Risotto begins with farrow cooked in vegetable stock which is finished with a kombu parmesan broth. The dish features onion, leek, garlic, shallots, spinach and arugula which are pureed, giving a vibrant green appearance. Served with an arugula, radicchio and frisee salad with white balsamic vinaigrette and lemon zest, Ardor's risotto is completed with a parmesan and calabrian chili vinaigrette.
Highlights from the desert menu include Terrarium, which is created with sugar blown like glass into a sphere. The globe is shattered to reveal edible flowers, dill, vanilla-honey gelatin and bergamot, served over orange gelato which is surrounded by a cloud of spun sugar. Inspired by Pride, Rainbow Sherbet, presents a colorful creation where a raspberry, orange and tarragon sherbet is served on an olive oil cake and completed with a towering raspberry sugar tuile.
Ardor's cocktail offering mirrors the kitchen's focus on fresh ingredients. For example, Clear sees a lightly pickled Piopinno mushroom presented in a clean, fresh martini which is sprinkled with koji to bring out the umami and purity of the ingredient, without over-layering. Emphasizing mezcals and tequilas the cocktails at Ardor are seemingly simple and rely on the spectrum of colors as inspiration, defying the pompous noise of current cocktail culture.
Ardor's re-opening sees a new wine list, geared towards large format, healthy farming practice wineries. Emphasizing that safe farming techniques are both healthier to drink and better for their surrounding communities, the list includes a selection of natural and biodynamic wines. With several by-the-glass wines poured from magnums, the curated bottles pair well with the light, vegetable-centric dishes on the menu.
---
Complimenting Ardor's focus on California-sourced ingredients and working in harmony with nature, The Spa at The West Hollywood EDITION offers treatments and experiences that embrace healthy lifestyles and ecological well-being. The Spa's treatments and curated retail space offer a collection of prestige wellness and beauty brands including, Odacite, Osea, Nesko and The Lost Explorer – all inspired by the sensory experience of a Coastal California journey.
With an innate and holistic focus on inner health, The Spa at The West Hollywood EDITION also utilizes locally-sourced and plant-derived products in their treatments. From the Glow Jet Peel facial, utilizing a blend of cosmetic treatments and medical grade tech not typically found outside of medical spas, to the Off Sunset massage incorporating unique crystal GUA SHA stone for a full-body detox experience, The Spa at The West Hollywood EDITION's menu offers one-of-a-kind, elevated experiences ranging from an hour of relaxation to a stay all day retreat.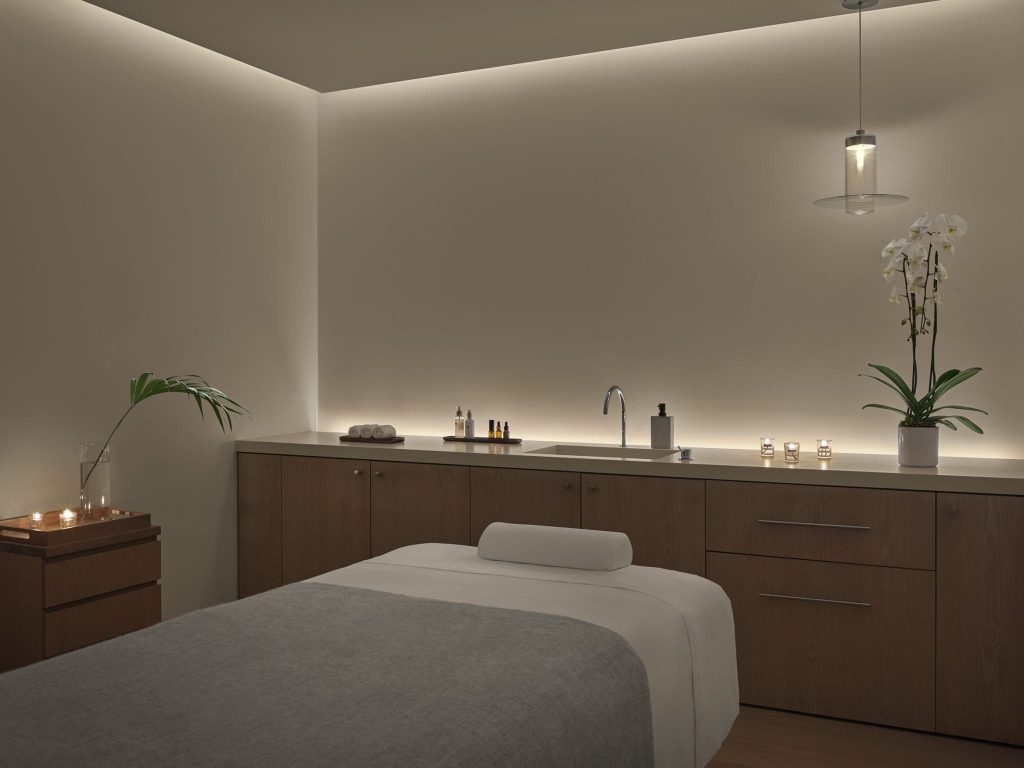 A new addition to The Spa's offering, Sanctuary Services now offer touchless treatments in a dedicated meditation space, designed to bring the mind and body back to balance. Alchemizing both ancient traditions and modern technology, Sanctuary Services include Illuminate where POLY LED light therapy is used to diminish pore size and improve skin tone and texture, and a Sound Bath Meditation with crystal sound healing to cleanse the body.
With wellness at the forefront of the experience, The Spa is celebrating National Wellness Month with complimentary enhancements for all treatments and services on Wednesdays and Thursdays throughout the month of August.
Located at 9040 W. Sunset Boulevard, The West Hollywood EDITION is looking forward to welcoming back guests as well as the local community to experience its modern luxury amenities, innovative culinary program under the helm of Chef John Fraser and restorative treatments at The Spa.
Learn more about The West Hollywood EDITON by visiting editionhotels.com/weho or by calling 1.310.953.9899.