Summer @ The Wallis continues to welcome live audiences back with an entertaining mix of live hip hop and contemporary dance programs and Mariachi, classical and pop music performances running from August 7 – 28, 2021, on a spectacular pop-up outdoor theater – a theater without walls – at the Wallis Annenberg Center for the Performing Arts. The eclectic programming follows a five-week run of Tom Dugan's one-man show Tevye in New York! Includes Salastina, world premier of Heidi Duckler Dance: The Chandelier, The Wallis debut of Versa-Style Dance Company: Box of Hope, Quattrosound, Mariachi Arcoiris de Los Angeles, and Ty Taylor: A Summer Evening of Classic and Nouveau Standards.
---
Salastina
August 7, 2021, 8 PM
Salastina, an LA-based chamber music ensemble nationally recognized for its accessibility and "elegant virtuosity" (Huffington Post), performing a compelling selection of music from repertoire spanning three centuries. Founded in 2010 by violinist Kevin Kuman, and Maia Jasper White, who describe chamber music as "the indie rock band of the classical music world,"  the group includes world-class studio musicians who have been featured on a range of iconic film and television scores. 
Ticket: $40
---
Heidi Duckler Dance: The Chandelier
August 12-15, 2021, 8 PM 
Heidi Duckler Dance: The Chandelier world premiers and brings back live dance to the Wallis Annenberg Center of Performing Arts. A site-specific work choreographed and directed by company Founder/Artistic Director Heidi Duckler will run for four nights. Taking the audience on an epic journey, The Chandelier, created for The Wallis, is based on a novel of the same title by Brazilian author Clarice Lispector. Duckler animates the book's interior monologues and devises characters from odd fragments of dialogue to create a moving portrait of a family living amid the ruins of colonial society. Through layers of imagery, acts of repetition and audience engagement, Duckler explores the contrasting ideas of impermanence and the irrevocable.  Tickets: $50
---
Versa-Styles Dance Company: Box of Hope 
August 19-21, 8PM
Versa-Style Dance Company makes its Wallis debut with a three-night live engagement of its latest hip-hop dance-theater production, Box of Hope. Box of Hope fuses the vintage sounds of R&B and Motown using exuberant hip-hop dance to explore the roof of the inequalities and hardships in today's volatile social climate, specifically within underserved African American and Lation communities.It uncovers how those inequalities affect the family structure and dynamics. The dance company's work gives voice to and a platform for an urban demographic that has experienced years of economic and racial oppression. Above all, it brings a sense of understanding and hope for all people.
Tickets: $35
---
Quattrosound
August 25, 2021, 8 PM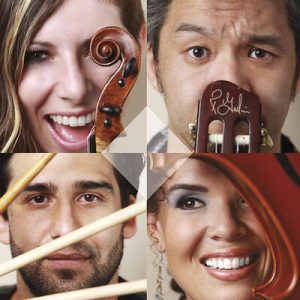 Quattrosound shakes up Summer @ The Wallis with its engaging blend of jazz, rock and classical music. Its four musicians are equally astute at playing a Bach Suite, rocking out to Led Zeppelin or interpreting a piece by Chick Corea. With violin, cello, guitar and an eclectic selection of percussion instruments and creative vocal arrangements reflecting the musicians' roots in Japan, Mexico, Guatemala and the U.S. Quattrosound features Leah Zeger (violin and vocals), Giovanna Moraga Clayton (cello and vocals), Kay-Ta Matsuno (guitar and vocals) and Jorge Villanueva (percussion and vocals). Individually, these accomplished musicians have played with such headliners as Bocelli, Barbra Streisand, Yo-Yo Ma,Annie Lennox, Michael Jackson, Layla Hathaway, Ricky Martin and Gloria Estefan, among many others.
Tickets $40
---
Mariachi Arcoiris de Los Angeles
August 26-27, 2021, 8 PM
Mariachi Arcoiris de Los Angeles, the world's first LGBTQ+ mariachi band, presents the infections sounds and rhythms from south of the border in back-to-back performances. The unique and dynamic ensemble, which showcases the musical and folklore traditions of Mexico's rich culture, and "encompasses what it means to live harmoniously (Fodors Travel), made history when it created a haven where mariachi musicians who identify as LGBTQ+ can come together and perform traditional Mexican regional music in an otherwise "machista" and discriminating subculture of the mariachi world. Led by director Carlos Samaniego, Mariachi Arcoiris de Los Angeles, features among its ranks Natalia Melendez, the first transgender woman in the history of mariachi.
Tickets $30
---
Ty Taylor: A Summer Evening of Classic and Nouveau Standards
August 28, 2021, 8 PM
Acclaimed recording artist Ty Taylor, described by Rolling Stone as "a modern-day James Brown" for his in-the-pocket sound, caps Summer @ The Wallis with a sophisticated and swinging evening of classic and nouveau standards. His satiny jazz stylings, with rhythm and blues roots, reflect a time when lush was live and romance was king.
Tickets: $50
---
Summer @ The Wallis tickets are on sale now for all events. The Wallis Annenberg Center for the Performing Arts is located at 9390 N. Santa Monica Blvd, Beverly Hills.
To purchase tickets and for more information, please call 310-746-4000 (Tue.-Fri. 9:30 am – 2:30 pm) or email Tickets@Wallis.org.
For safety updates and protocols, please visit https://thewallis.org/safety