Innovate Beverly Hills Recap
Innovate Beverly Hills is the Chamber of Commerce's largest annual event. This year, broadcast journalist Erica Mandy hosted, moderating panels attended by leaders in the restaurant, medical, and entertainment industries. The first panel, The Future of Food, featured Chef José Andrés (owner of ThinkFoodGroup), Chef Curtis Stone (Maude Restaurant), and Chef Sally Camacho Mueller (Tesse Restaurant) discussing how to continue inventing with food despite growing competition. The second panel, Virtual Medicine, featured Dr. Brennan Spiegel showing how virtual reality is being used to treat pain and improve lifestyles in a drug-free way at Cedars-Sinai. The final panel, A New Era in Entertainment, featured Rob Dyrdek (Dyrdek Machine), Roy Taylor (Stealth Company), and Ellen Pittleman (Hybrid Entertainment) discussing the trajectory of the entertainment industry and how new technology is changing how content is being made.
The Future of Food
Following the devastation of Hurricane Maria in 2017, Chef José Andrés served over 3.3 million meals to communities in Puerto Rico in collaboration with World Central Kitchen and #ChefsforPuertoRico. With his experience creating World Central Kitchen, a non-profit that provides solutions to hunger and poverty by empowering communities and strengthening economies through food, he emphasized that contributing to charities is not about the donors, but about helping those in need. José Andrés reminded the audience to invest wisely in charities that will make a return on their investment.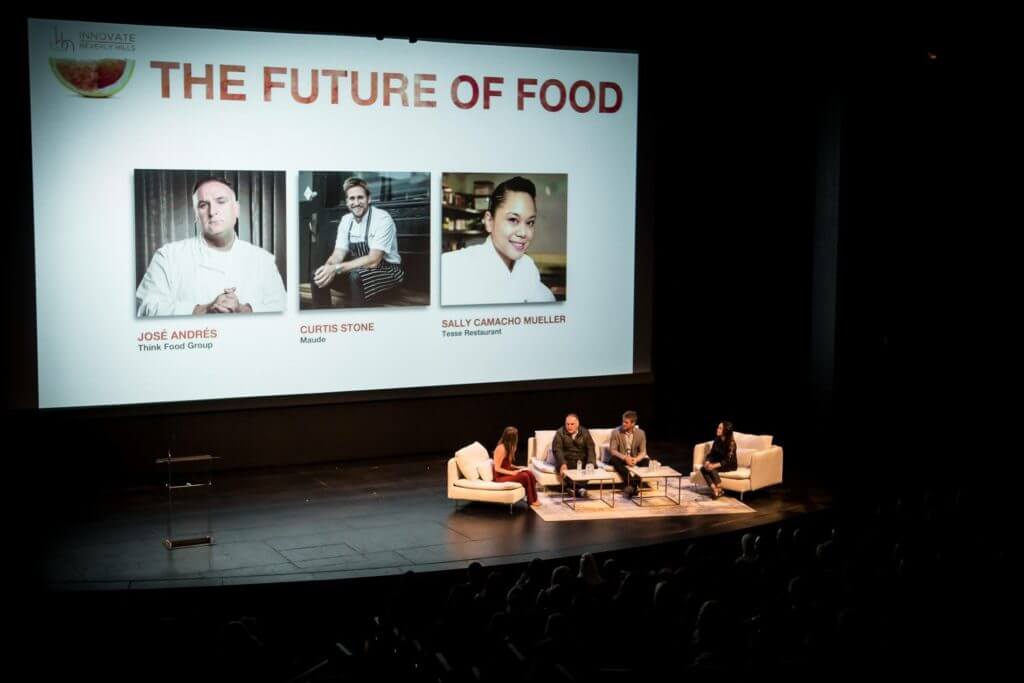 On the other hand, innovation drives Chef Curtis Stone's business since he challenges himself and the rest of the competition by not doing what everyone else has done. Taking chances with business also requires taking chances on other people, shown by his partnership with Chrysalis, an organization that helps the formerly incarcerated and homeless find jobs.
In planning for the opening of Tesse Restaurant as well as her own food creations, Chef Sally Camacho Mueller actively chooses to use available resources that are local, in season, and sustainable. She innovates with food by pulling inspiration from her Filipino-American background and her French cuisine training to create cultural experiences that introduce new flavors to others. It is important to remember that, what is ordinary to one person can be new to another.
Virtual Medicine
Technology has always advanced medicine, so Dr. Brennan Spiegel is pioneering the practice of utilizing virtual reality as a treatment in the hospital that goes beyond the limited capabilities of pills. Virtual reality (VR) is an immersive, realistic experience that allows users to interact with a simulated environment. So far, 2,500 patients have used VR as a treatment at Cedar-Sinai.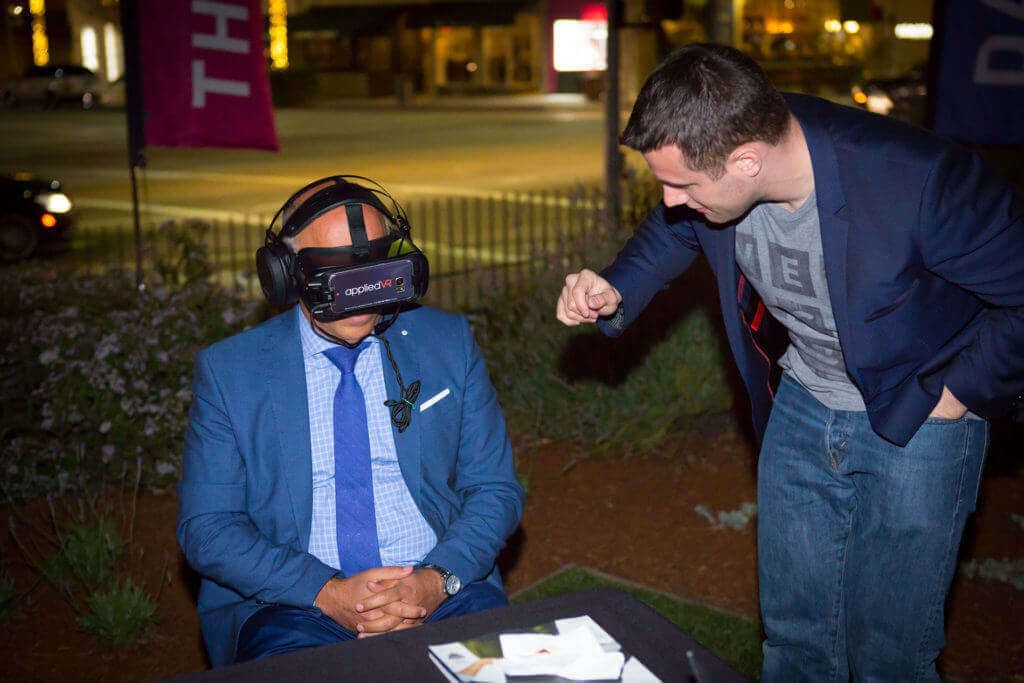 Spiegel admitted that hospital rooms tend to become a "social jail cell" in which patients are isolated and can suffer physically, emotionally, and socially. VR remedies this by transporting these people outside of their hospital rooms to places where they can swim with dolphins or gallop with horses, all by wearing goggles and a headset. Patients who use VR to manage their pain forget their discomfort during and after interacting with VR. According to the gate control theory, VR acts to send positive signals to the brain to interfere with the negative, painful sensations. Another theory, the spotlight theory of attention, states that since the brain is only able to concentrate on so many things at once, VR can overwhelm the brain with positive experiences and render it incapable of detecting pain coming from the body. Although VR has the capacity to help many people and serve as therapy, it can also cause harm and trigger emotional responses such as panic attacks. Therefore, Spiegel introduced the idea of a "virtualist;" a medical professional whose job is to tailor and prescribe the proper virtual reality treatments to most effectively help patients.
A New Era of Entertainment
Rob Dyrdek built his own brand at the age of 18 and, with years of industry experience, continues to develop his business. He stresses the importance of being selective with ideas and businesses since trying to predict consumer behavior is a slippery slope that always has potential to lead to failure. Therefore, Rob emphasizes that companies must decide their target audience and then create with their audience in mind. Regardless of the entertainment platform, the quality content naturally rises to the top.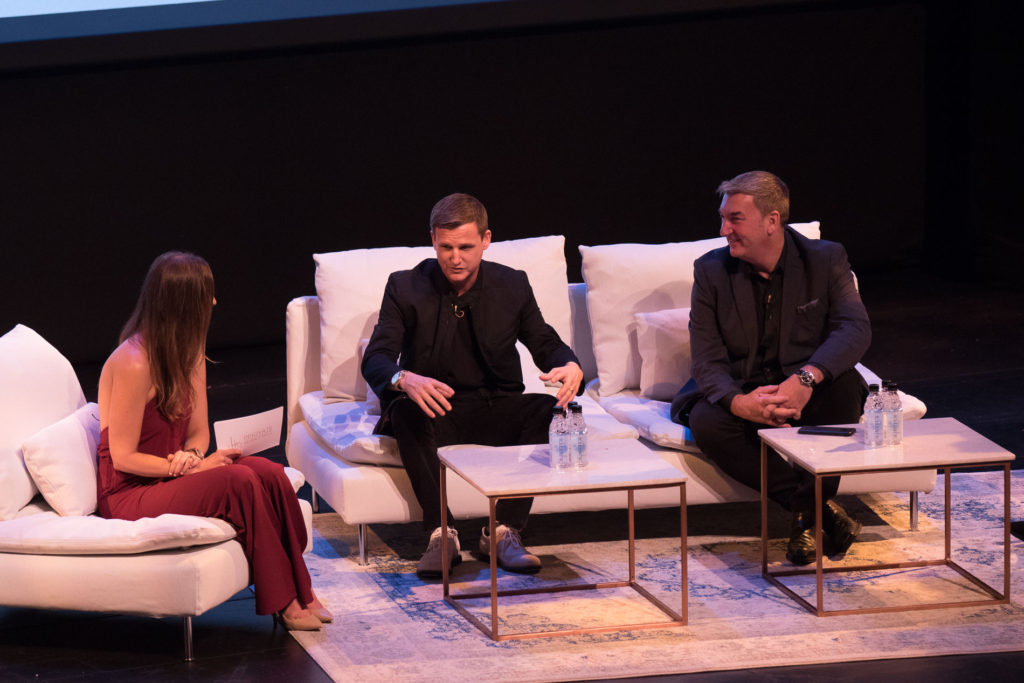 Roy Taylor has always been pushing the boundaries of technology in entertainment. His latest projects use technology to capture faces and recreate them photo-realistically into a computer-generated image. This implies that actors may eventually be able to act in their day to day outfits, and everything from their makeup to their background is computer generated. This has its own ethical implications because this technology enables a user to make anyone photorealistically say anything. Taylor commented that the "future is accelerating" and science fiction is shortening as the gap between the imagining science fiction and it becoming reality continues to get smaller. From an executive standpoint, Ellen Pittleman noted that the big businesses that used to be the gatekeepers of entertainment are no longer innovating. The individual has become more powerful in producing, innovating, and distributing content as the landscape for traditional movie-going and television-watching continues to transform. Reiterating Dyrdek's comments, Pittleman emphasized the importance of identifying the consumer and fan base in order to best meet their demands.
Thank you to all who participated in #InnovateBH! Very special thanks to DVR Productions Event Video and Photography for these photos. Also, thank you to these incredible supporters of #IBH 2018: Chef José Andrés, Chef Curtis Stone, Chef Sally Camacho, Dr. Brennan Spiegel, Ellen Pittleman, Rob Dyrdek, Roy Taylor, O'Gara Coach Beverly Hills, Cedars-Sinai Health System, Kennedy Wilson, Torrey Pines Bank, Eldridge Industries, Wallis Annenberg Center for the Performing Arts, the very creative firm, Shelea Music, DJ Aaron Colbert, William Yun, Asombroso Tequila, buzzbox premium cocktails, Gratitude Beverly Hills, Il Fornaio Beverly Hills, Le Mervetty, Ocean Prime Beverly Hills, Tio Gazpacho, and Via Alloro.
View additional photos by DVR Productions from Innovate Beverly Hills by clicking here.