Experience LA's Skyline – 54 Stories Above Ground!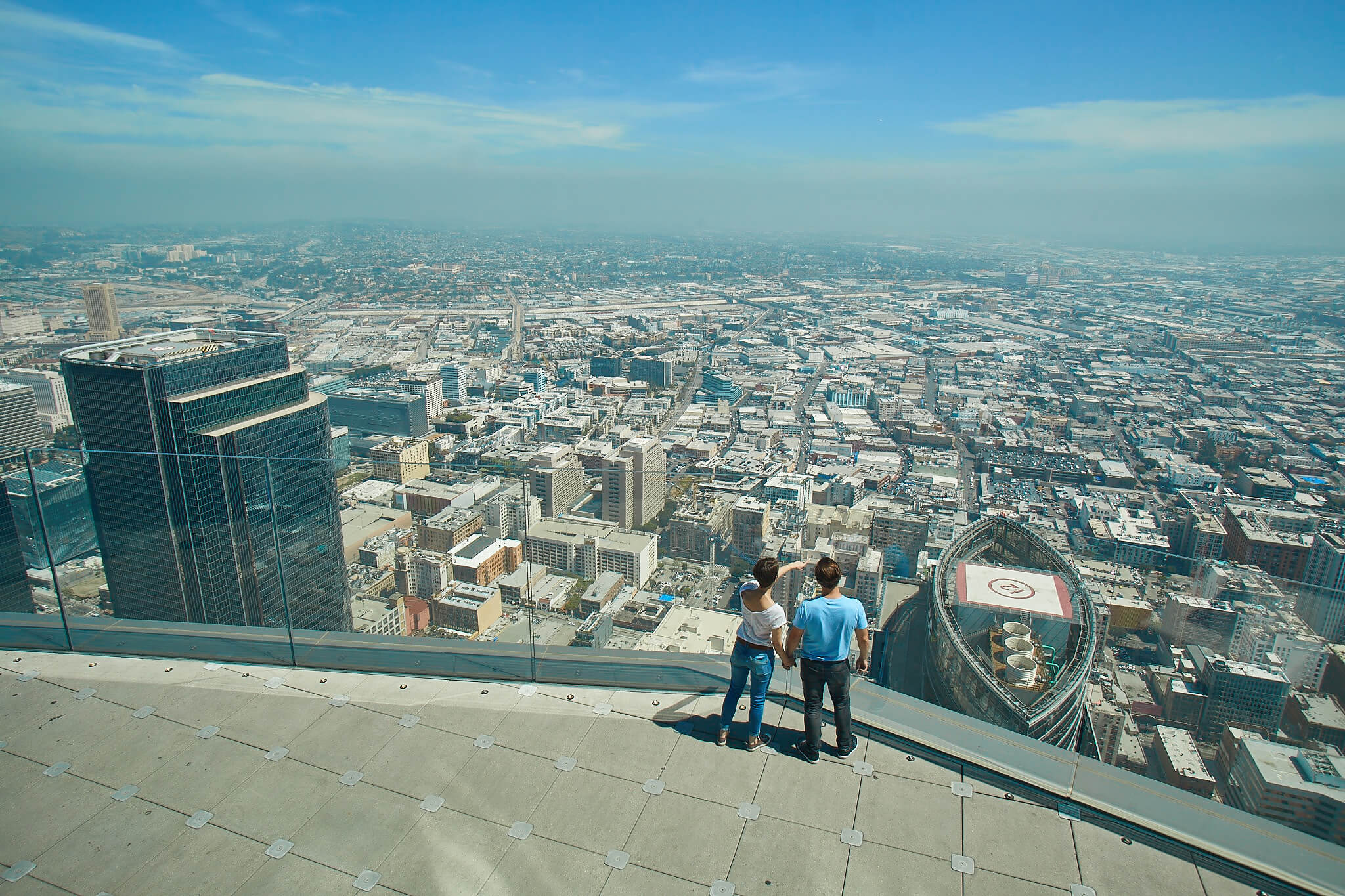 The people of Los Angeles are always looking for new and interactive ways to view the city's skyline. OUE Skyspace LA is a popular attraction in Downtown Los Angeles that allows guests to observe Los Angeles from 1,000 feet above ground.  It is located on the rooftop of the U.S. Bank Tower and developed by OUE, a real estate owner, developer, and operator based out of Singapore. OUE Skyspace LA was developed in June of 2016 to honor the integrity of the original design of the iconic U.S Bank Tower and celebrate the culture of Los Angeles.
The rooftop includes an interactive floor, thrilling Skyslide, and California's tallest open-air observation decks.  Located on the 54th floor, OUE Skyspace LA's interactive experience features a 360- degree video wall which showcases scenic landscapes from the San Gabriel Mountains to the Pacific Ocean, an Infinity Mirror which simulates a stunning view from the 54th floor, and a Silhouette wall which uses pixels to reflect images based on your individual body movements.  Located on the 69th floor, the two open-air observation decks offer a view of Los Angeles and its unique topography. From nearly 1,000 feet above downtown L.A., visitors are offered a complete view of the city, from the mountains to the ocean, which can be enjoyed year-round. The Skyslide is an outdoor glass slide positioned nearly 1,000 feet above downtown Los Angeles. Made entirely of clear glass, 1 1⁄4 inches thick, the Skyslide extends forty-five feet, from the 70th floor to the 69th floor of the U.S. Bank Tower. The entrance to the Skyslide is approximately four feet wide.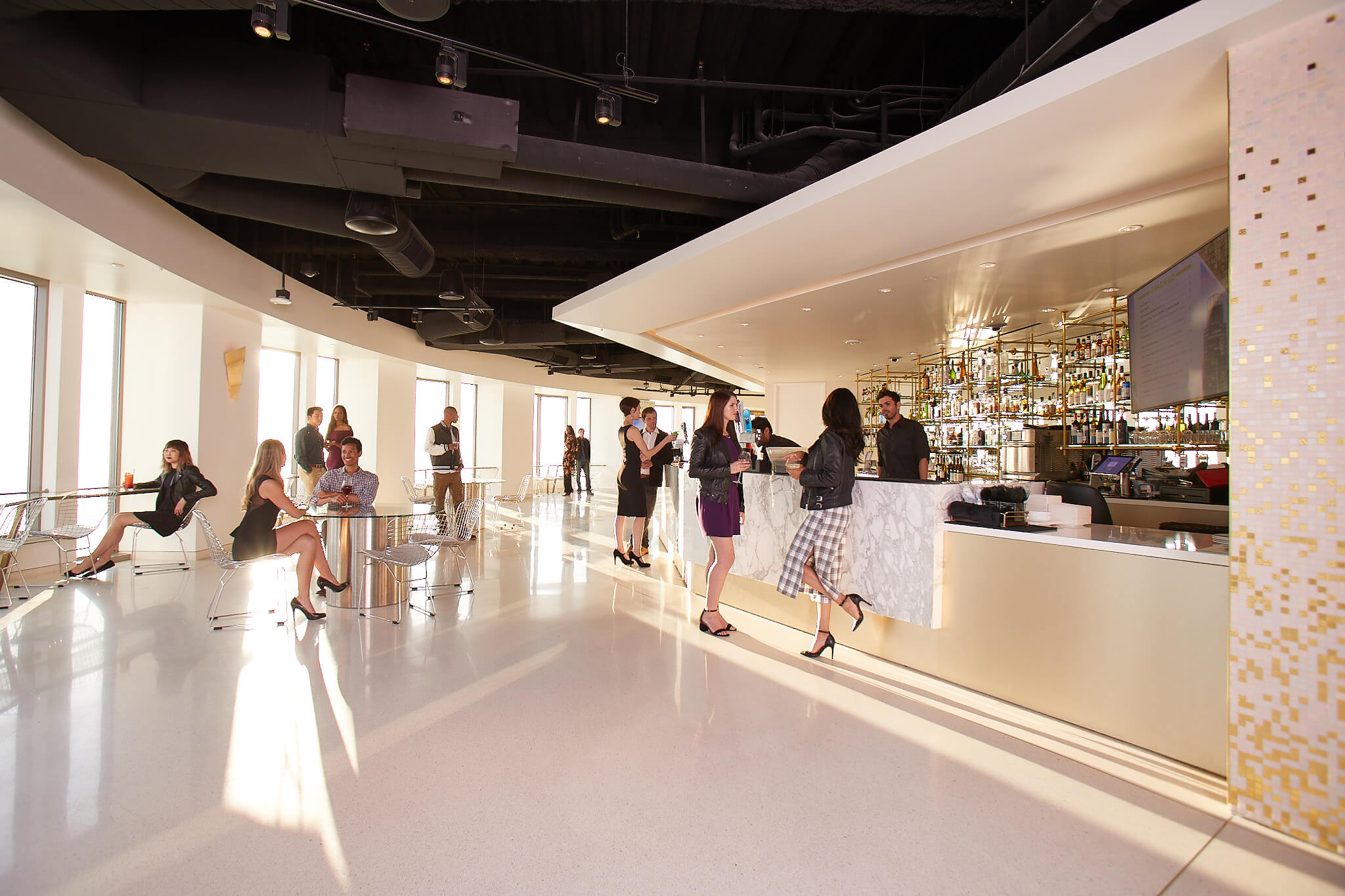 OUE Skyspace LA recently debuted the new Skyspace Bar – one of the highest bars and lounges in Southern California. The bar's offerings place an emphasis on local culture by celebrating local distillers and spirits purveyors. Here, guests can "elevate their spirits" one thousand feet above the city's cosmopolitan landscape with a carefully curated menu. The cocktail menu includes hand-crafted signature drinks featuring quality ingredients like the Angelino's Delight—a mixture of Avion Silver Tequila, Lime, Bell Pepper Syrup, Cayenne & Mezcal Spritz. They also have a fine collection of fine spirits featuring classics as well as locally sourced varieties and premium wines sourced locally across California. Thoughtfully prepared bites are available at the bar or at the new grab-and-go counter for those looking for a something to snack on.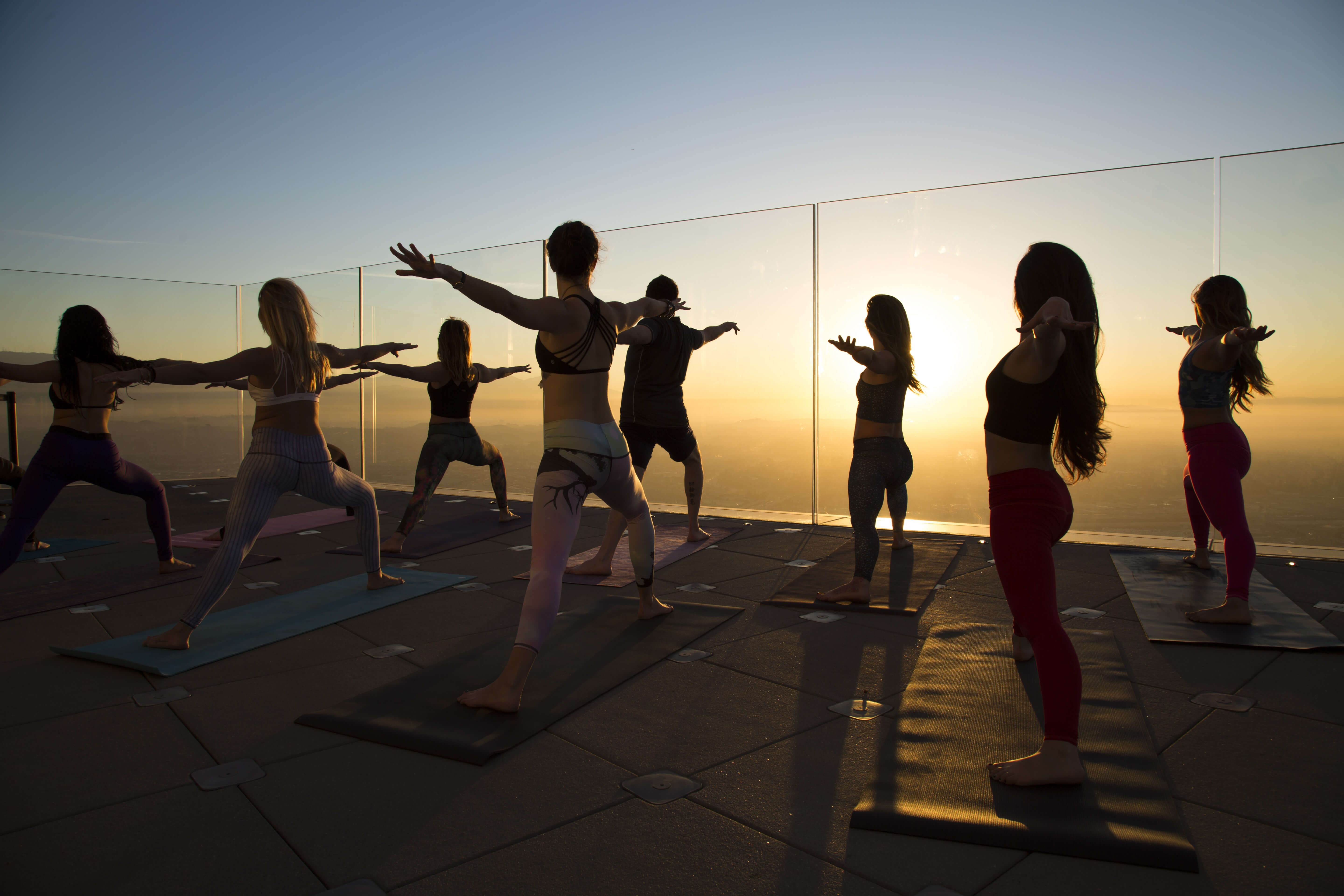 OUE Skyspace LA has created Mind, Body and Soul @ OUE Skyspace L.A., a terrace-top wellness program with various health activities located 1,000 feet above ground. One of their programs is Yoga in the Sky, where instructors strive to empower the body through yoga. Taking place the first Tuesday of every month, classes include admission to ride the Skyslide and access to the observation decks. Alternating seasonally from sunrise sessions (spring/summer) and sunset sessions (fall/winter), it's the ultimate destination to up your sun salutations game. Their other approach to fitness is City Lights, their "elevated party," with a balanced approach to fitness including evening yoga, DJ's, and immersive art exhibits. Events are held monthly in collaboration with Bender.
For more information about OUE Skyspace LA, visit https://oue-skyspace.com/.