Economic Insight Heading Into 2022
Economic Insight Heading into 2022
By: Jeff Runyan, Owner & CEO of Runyan Capital in Beverly Hills
The new year brings an opportunity to reflect on the past and is an excellent time to think conscientiously about the year ahead. A time to be met with goals and aspirations about what one hopes to accomplish  in the next year. Our role at Runyan Capital is to be prudent and responsible  with the hard-earned money you have in your portfolio today; that goal will never cease.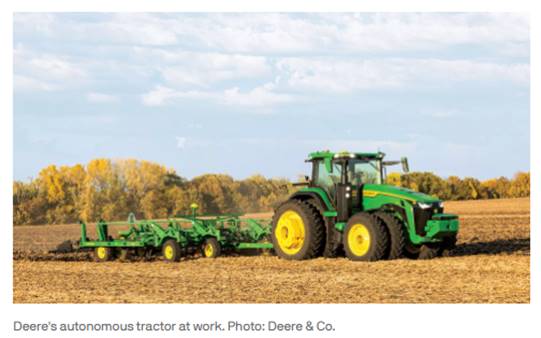 There are many areas to be excited about for investment in the year(s) ahead, including the growth in infrastructure in the United States, continued demand in electric and autonomous vehicles, augmented reality with VR headsets (ask your kids or grandkids), continued innovation making work from home a more significant advancements in health and medical care. Of course, there are apparent concerns always on my radar. For example, last year, more than 50 companies went public, yet an overwhelming number of them are 20-50% lower in price now than their peak price during this past year. Companies like RobinHood, the online stock trading platform; Coinbase, a platform to trade digital currencies, Ziprecruiter, the job posting, and candidate search site; Warby Parker, the eye frame manufacturer; and Roblox, the video game developer, are such examples. Equally telling, "insiders" like Elon Musk of Tesla, Jeff Bezos of Amazon, and Satya Nadella of Microsoft have sold record levels of company stock in the recent year. In fact, "insider selling" by execs across the S&P 500 hit $63 billion in shares and was up 50% from 2020.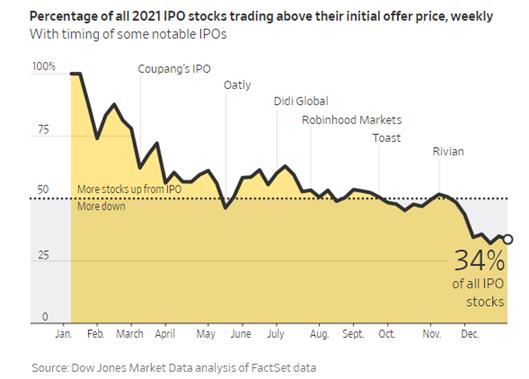 That, along with the record economic stimulus received by many households, accompanied by continued low-interest rates, encouraged an environment where prices of assets escalated dramatically (i.e., How much is your house worth? What was it worth two years ago?). That brings us to the point where we are now: many financiers and experts conclude "market valuations are rich or extended." When you hear language like "rich" and "extended," be reminded, they are euphemisms highlighting exaggerated market values of specific companies or a value beyond what the underlying company is intrinsically worth.
One of the most admired investors of all time, Warren Buffett, along with his business partner Charlie Munger, of Berkshire Hathaway said as recently as December 2021 in an interview, "There's no great company that can't be turned into a bad investment just by raising the price." And that's essentially the premise of where we are today.
As you know, I'm an optimist; I always have a view that tomorrow can be even better than today. I'm also a realist, cautious and aware, avoiding being naïve, especially when protecting your portfolio.
The year ahead brings near certainty with increasing interest rates. And, interest rates are the costs of capital or the price of money. That higher cost means companies can borrow less or that the same borrowing will require more income to service the debt acquired. Households that take on debt will have less discretionary income to meet other financial objectives. Those reductions in cash flow can lead to less spending. Less spending leads to reduced company revenue and ultimately slower company earnings. That cycle, the Business Cycle, is always on my mind.
What's also on my mind for the year ahead: inflation, which erodes real return, being vigilant and staying true to your comfort level with acceptance of market risk, and keeping the specific goals you have in mind for 2022 aligned with your investment portfolio. In the last year, I've seen clients pay off mortgages, fund college tuitions, buy a second/third home, purchase an apartment building, take a company public by ringing the bell at the New York Stock Exchange (where he invited me to join him on the trading floor) and beyond. If those accomplishments are aligned with what you'd like to achieve too, Runyan Capital welcomes the opportunity to explore how we can also deliver to you an elevated wealth management experience.
Here's to a great year ahead,
Jeff Runyan
Sources:
Jeff Runyan Bio: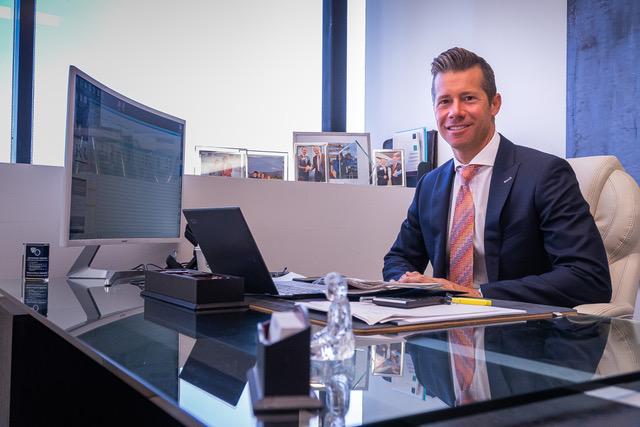 Jeff Runyan, owner and founder of
Runyan Capital
, runs a wealth management firm servicing high-net worth individuals, households and businesses across the country with individualized care and attentiveness. Client financial success is our sole focus, and we pride ourselves on tailoring portfolios to meet each client's economic objectives. We understand wealth accumulation is important; yet recognize it is equally,
if not more important and rewarding
, to minimize loss during periods of decline. Services include comprehensive investment and wealth management, retirement planning, 529 plans, 401(k), plans as well as our
Invested Athlete®
, 
Invested Woman®
,and 
Invested Artists®
 divisions.