BH Garden Party & Induction of the 97th Chairman of the Board
The Chamber welcomed a record number of over 500 guests to the annual Summer Garden Party, on Wednesday, June 27, 2018. The Garden Party took place at the beautiful Beverly Canon Gardens in the heart of the Golden Triangle, and serves as the Chamber's annual member appreciation celebration and board installation night.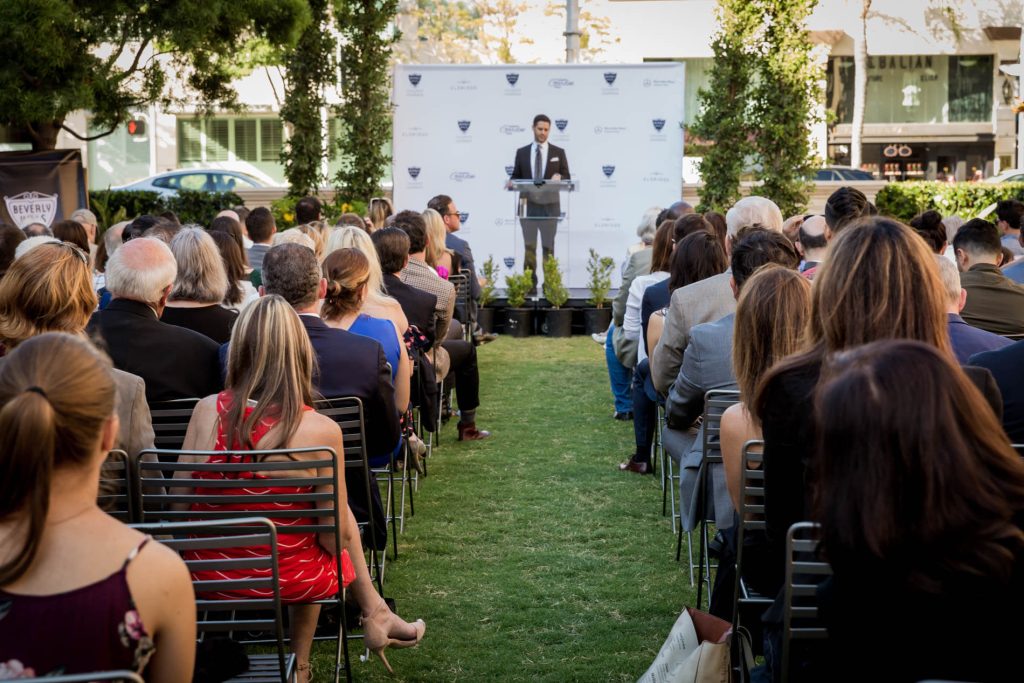 The evening kicked-off with remarks by the outgoing Chairwoman of the Board, Jennifer Kullmann as she spoke about the many accomplishments of the 2017-2018 year. Following the Certificate of Recognition Ceremony led by Mayor Julian Gold, M.D., Charles L. Black III was inducted as 97th Chairman of the Board of Directors. Mr. Black then addressed the audience with remarks on what his major focuses would be during his term. Here is what he said:
---
"Beverly Hills is my community. It is a place where I have always felt welcomed by its people and inspired by its success. I have always felt personally responsible for helping to facilitate business relationships here. It is in my experience, that these relationships are made and fostered within our Chamber membership and should go far beyond transactional. For this reason, my primary focus will be on member retention through increased member satisfaction and a focused and strategic return on the investment of your membership dollars. I wholeheartedly believe that the incentive to maintain your membership should always outweigh the cost.
If you're not yet a member of the Chamber and are considering joining, or aren't seeing the results you desire in your business and would like to know more about next steps, please connect with me. I would be glad to spend some time with you personally to provide guidance and support.
We are so fortunate to do business in this amazing city, which has a brand that is recognized worldwide. There is no reason that we shouldn't be best in class in all of our marketing initiatives. My secondary focus will be to continue to drive and elevate our marketing efforts. Social media dominance within the Chamber world has been a focus of ours for a few years now and we will soon be the #1 performing Chamber as it relates to social media engagement on all platforms; which in turn, provides a tremendous benefit to our members…especially our small business owners. Furthermore, I look forward to refining our newsletter and increasing its reach, as well as increasing web traffic to our dedicated Chamber site for the benefit of our members.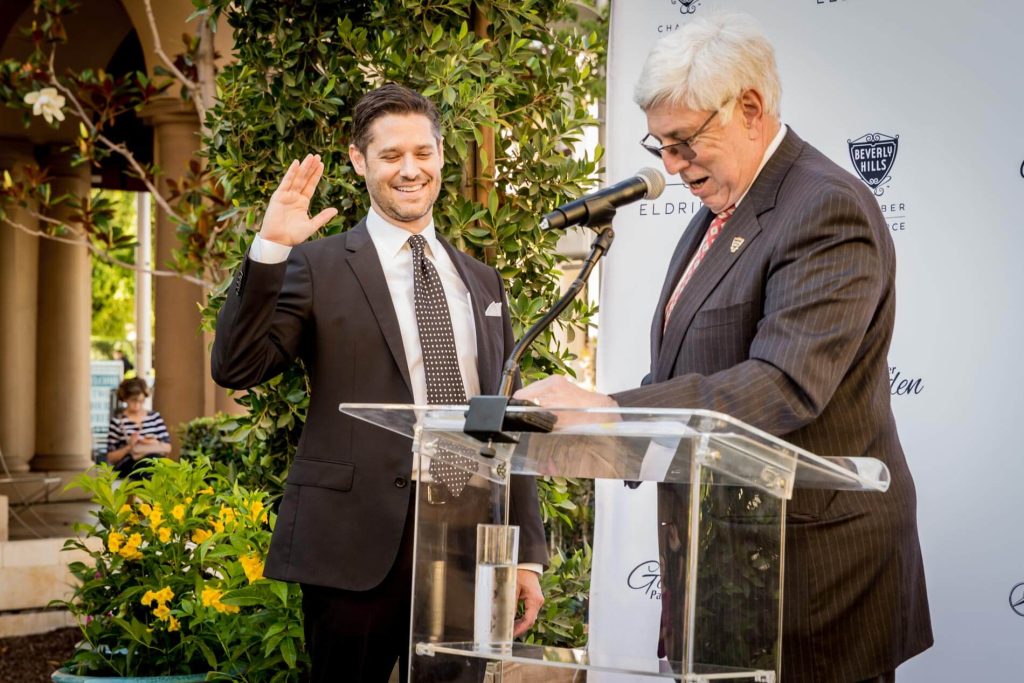 I had lunch with Mayor Gold recently as I wanted a first-hand account of the key initiatives for his term, which include supporting the Next Beverly Hills Committee, The Commercial Space and Business Attraction Strategic Group, the BOLD Initiative and the Small Business Task Force. It should be no surprise that the following slogan came to mind: "Stay in the Black as we mine for Gold". As corny as that may sound, I am dedicated to working with Mayor Gold to do just that.
I leave you with my personal mantra, as it also relates to my leadership this year, 'To add value to others, one must first value others,' John Maxwell."
---
The rest of evening the crowd celebrated with music by Quist & Trip and delicious and decadent bites and beverages from area restaurants and businesses.
Thank you to each and every sponsor, staff and crew member, Board of Director, Chamber Ambassador, and all of our volunteers for making the evening go so seamlessly. Special thanks to all of our event sponsors who made the night possible, including: Eldridge Industries; Mercedes-Benz of Beverly Hills; Torrey Pines Bank; Compass Real Estate; MCE Checkin; Montage Beverly Hills; Cedars-Sinai Health Systems; JLL Brokerage; Moon Valley Landscape Design Center; and Kirschner Creative Artists, as well as these reception sponsors: Bombay Palace; Comoncy; Coral Tree Café; M Café; Ocean Prime Beverly Hills; Sharky's Woodfired Mexican Grill; Via Alloro; AsomBroso Tequila, buzzbox premium cocktails; and Morandell Imports.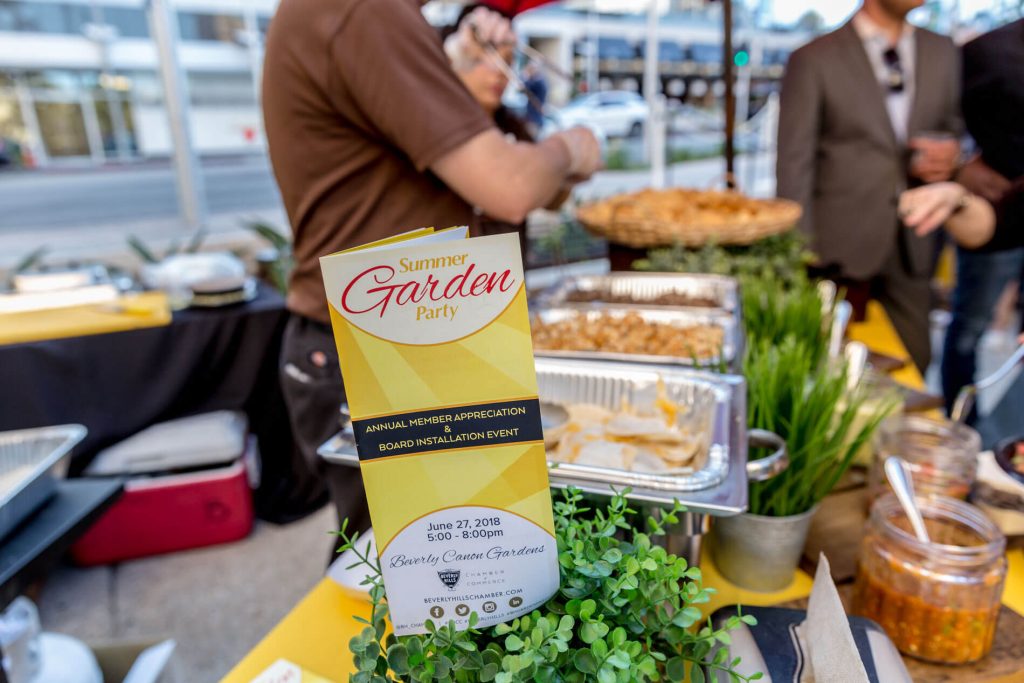 Last, but not least, thank all of our guests for sharing the summer evening with us. We hope everyone had a fabulous time and look forward to seeing you around Beverly Hills this summer!
For a listing of the 2018-2019 Board of Directors, click here.
Click here for the official event photos by DVR Productions.