Beverly Hills 5K Run/Walk & Fitness Blast
$30,000 raised for the Beverly Hills Education Foundation
On Friday, May 11th at 10:00 a.m. the Beverly Hills 5K Committee presented a check to the Beverly Hills Education Foundation. The $30,000 check benefits the students in the Beverly Hills School District and is just the beginning of the fundraising effort. The monies were raised on January 28th at the Beverly Hills 5K Run Walk & Fitness Blast.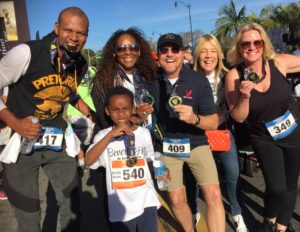 "We are thrilled to announce that the net proceeds to BHEF were $30,000.  So proud for that final number to come through and for the amount to exceed our originally predicted number of $25,000," said Celebrity Trainer and Fitness Philanthropist Dion Jackson.
Jackson's company, All Seasons Fitness Media, partnered with Run Racing (local race management organization), the City and the Beverly Hills Education Foundation to make this happen. As a first year event, there was a learning curve and many upstart costs but, in the end, generous donations from sponsors and community members brought the total to $30,000.
"From top to bottom so many people came forward to ensure success starting with the Mayor, the BHEF, and our major Sponsors Mercedes Benz, First Republic Bank, Lili and Jon Bosse Family Foundation, Nespresso and Beverly Hills Courier," said Jackson.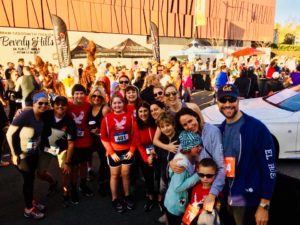 Because the event was a USA Track and Field Sanctioned Event the details were very important. From the race route to the road closures and from the timing chip in the bibs to the singing of the national anthem no detail was spared. Many local organizations like the Beverly Hills Chamber of Commerce, The Beverly Hills Firefighters Association, the Beverly Hills Historical Society, and the L.A. Galaxy really came out in support.
"I was impressed that so many organizations took time to see this event succeed.  Todd Johnson from the Chamber, Chief Gregory Barton from the Beverly Hills Fire Department, Phil Savenick from the BH Historical Society and the Star Squad from the L.A. Galaxy all added a special touch to the event, " said emcee and All Seasons Fitness Media team member, Troy Titus-Barrow.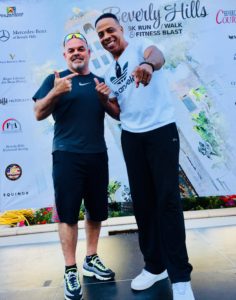 The Chamber pounded the pavement to bring in sponsorships and city support and the firefighters brought on-site fun with their old-fashioned trucks and a fire engine to hoist the American flag over the route. The BH Historical Society did a silent auction and decorated many of the booths with historical backdrops that told a story of the city's early years. Local hotels like the Montage and the Waldorf Astoria supported sponsor packages with hotel gift certificates and the Waldorf Astoria even brought chair massage to the event which was a nice pick me up for attendees. The L.A. Galaxy anchored the Kid's Zone with a Soccer Goal Kick and local Self Defense Studio, Z Ultimate came out to get the kid's involved and TEEN BHEF stepped into power many parts of the event.
---
Click here to read more about this event.