Best of Beverly Hills Golden Palm Awards 2019 Recap
Posted by Admin on November 22nd, 2019
Categories : Chamber Membership, City Insights, Events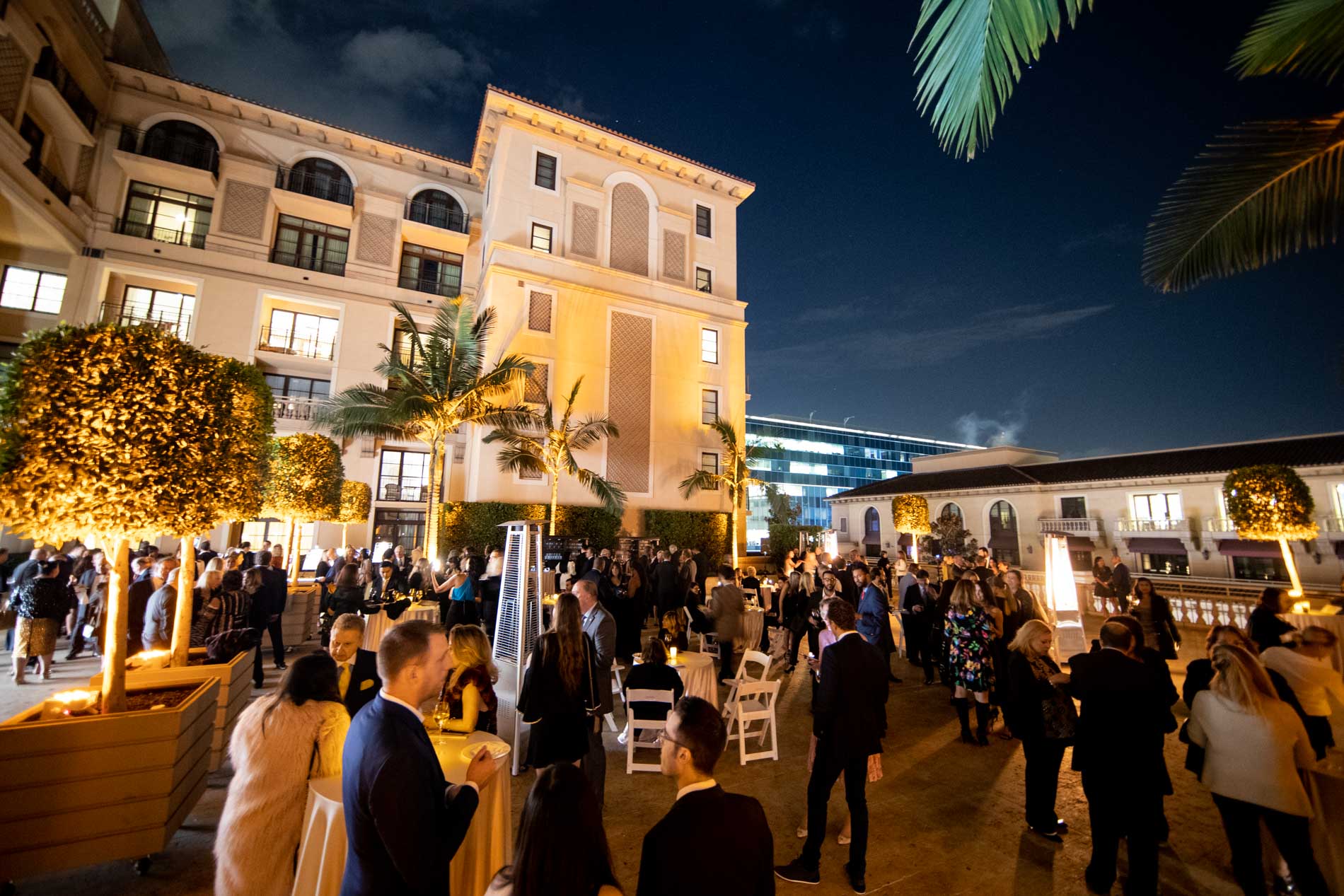 On Tuesday, November 19, the Beverly Hills Chamber of Commerce held the 2019 Best of Beverly Hills Golden Palm Awards at the Montage Beverly Hills. Guests began the celebratory evening on the third floor Montage Terrace where the lavish pre-ceremony reception inclusive of networking, photos, bites, and beverages took place. The reception also included an exclusive Trips of a Lifetime silent auction hosted by The American Fundraising Foundation, which provided guests with the incredible opportunity to book their dream vacation. The views from the Terrace overlooked Beverly Canon Gardens, which was festively decorated with holiday activations and lights.
Following the reception, guests were invited to the Marquesa Ballroom for the awards ceremony. The New York Times recognized Rose Colella Trio filled the room with live jazz while guests tasted deserts and drinks. Emcee, Frank Mottek welcomed guests and began the ceremony alongside, Chamber President & CEO, Todd Johnson. Event Chair and Co-Chair Bobbe Joy Dawson and Vicky Mense also took the stage to thank sponsors and stakeholders for their incredible support of the event. The ceremony went on to recognize exemplary businesses and individuals in Beverly Hills who have shown excellence in 2019. The award categories included: the Fred Hayman visionary Award, Above and Beyond Award, Innovation Award, Retailer of the Year Award, Hotel of the Year Award, and Restaurant of the Year Award.
FRED HAYMAN VISIONARY AWARD: This award is presented to an individual or business that has brought an extremely positive impact on the BH community. This individual or business is known in the BH community as enthusiastic, an out-of-the-box thinker with a long-term vision. They exemplify drive, focus, and perseverance to deliver and bring people together to achieve the vision. WINNER: Bob and Leslie Spivak
ABOVE AND BEYOND AWARD: Businesses who lead by example by going above and beyond in their business practices relating to employer and employee relations, guest services, and neighborhood relations. wINNERS: ALZHEIMERS ASSOCIATION CALIFORNIA SOUTHLAND & HERITAGE FINE WINES
INNOVATION AWARD: Businesses who excel in having created and implemented an original idea, which demonstrates marketplace success and practical development. WINNERS: Louis Vuitton & Imagine X Functional Neurology
RETAILER OF THE YEAR AWARD: Businesses who lead in best industry practices, community support, and esteemed reputation. WINNER: BEVERLY HILLS TEUSCHER
HOTEL OF THE YEAR AWARD: Businesses who lead in best industry practices, community support, and esteemed reputation. WINNER: WALDORF ASTORIA BEVERLY HILLS
RESTAURANT OF THE YEAR AWARD: Businesses who lead in best industry practices, community support, and esteemed reputation. WINNER: LAWRY'S THE PRIME RIB, BEVERLY HILLS
Congratulations to all of the Golden Palm award recipients! We are proud to honor you all.
Special thanks to the following event sponsors: Gold Sponsor: Torrey Pines Bank; Silver Sponsors: Galvin, Gaustad & Stein, LLC | Wealth Management, U.S. Bank, Cedars-Sinai Health System, and East West Bank; Creative Direction & Show Production Sponsor: The Very Creative Firm; Supporting Sponsors: Champion Site + Sound, GEARYS Beverly Hills, Matt Kalin | Marketing & Design DBA, Montage Beverly Hills, Rose Colella Trio and The American Fundraising Foundation; Table Sponsors: Beverly Hills Migraine & Pain Management Institute, Pantheon Business Consulting, Ten Thousand, and Vibe Office Properties.
We hope everyone had a fabulous time and look forward to seeing you at our next signature event, the State of Luxury – Power Panel Series with Ann Shatilla at the Waldorf Astoria Beverly Hills on December 3 from 8 – 10 AM.
Share This Page: