Transworld Business Advisors Opens New Office in Beverly Hills, CA
Entrepreneur and investor Jeni Abramson to lead new office.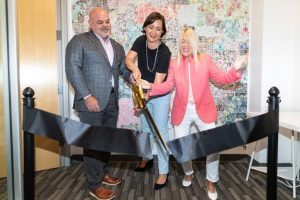 BEVERLY HILLS, CA, June 6th, 2022 — Transworld Business Advisors, the world's leading business brokerage and franchise development company, has expanded into Beverly Hills, CA, with the addition of franchisee Jeni Abramson as President and Principal Broker of Transworld Business Advisors of Beverly Hills. With extensive experience in enterprise sales and commercial transactions, Abramson will lead a team of advisors providing franchise development and business brokerage services to assist business owners in achieving franchise and transactional successes.
"We are thrilled to expand to Beverly Hills and offer our services to the Los Angeles market," Abramson said. "Los Angeles has been historically under-served by business brokers, which has caused many businesses to shutter without finding a buyer. We are here to change that reality and help business owners achieve their goals and maximize value."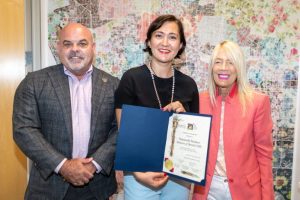 The Beverly Hills Transworld franchise, located centrally on Wilshire Blvd, offers its business brokerage and franchise development services throughout Los Angeles. "This is one of the most dynamic, diverse and economically robust metro areas in the world," said Jeni Abramson.
Abramson's goals for 2022 include adding a team of agents to focus on the brand's numerous listings and assist in current business sales transactions. "We are data-driven in setting goals and metrics for each agent to drive their success," said the President and Principal Broker. "However, our business philosophy is centered on building long-lasting relationships with the local business community and being actively involved with key organizations, such as the Beverly Hills Chamber of Commerce. This is a tremendous market and we intend to take full advantage of it." 
In her role at Transworld Business Advisors of Beverly Hills, Jeni Abramson will be heavily involved in the Los Angeles business community, coaching and mentoring business owners on franchise development and exit strategies that maximize market value. Her office will also be working with buyers on navigating the acquisition process and successfully achieving their entrepreneurial goals.
"I am thrilled to be part of the Transworld Business Advisors family," said Abramson. "We are excited about the future and look forward to serving the Los Angeles business community.""
As the world's largest business brokerage and M&A firm, Transworld Business Advisors has helped over 10,000 business owners maximize the value of their business. Transworld's business brokers sell more businesses than anyone else in the world. 
About Transworld Business Advisors 
Transworld Business Advisors® is part of United Franchise Group™ (UFG) family of affiliated brands. With 40 years of business brokerage experience, Transworld Business Advisors is in the business of helping buyers and sellers connect, conducting franchise consulting, and franchise development. The company represents acquisition-minded corporations or individuals interested in owning their own company or franchise. From business brokerage to mergers and acquisitions, Transworld Business Advisors are business sale specialists that represent numerous listings across multiple industries. For information about buying or selling a business visit, www.tworld.com and for information on owning a Transworld franchise, visit www.tworldfranchise.com . 
About United Franchise Group 
Led by CEO Ray Titus, United Franchise Group™ (UFG) is home to an affiliated family of brands and consultants including Accurate Franchising Inc.™, FranchiseMart®, Franchise Real Estate™, Fully Promoted®, Preveer™ (formerly Resource Operations International), Signarama®, Transworld Business Advisors®, and the Coworks™ division consisting of Network Lead Exchange™(NLX), Office Evolution® (OE) and Venture X® as well as a food division featuring Graze Craze®, Jon Smith Subs®, and The Great Greek Mediterranean Grill®. UFG affiliated brands include over 1600 franchises in more than 60 countries, with consultants that have helped develop over 350 brands into franchises, in over 80 countries with more than 2500 franchisees. With over three decades in the franchising industry United Franchise Group offers unprecedented leadership and solid business opportunities for entrepreneurs.