Theatre 40 celebrates its 57th Anniversary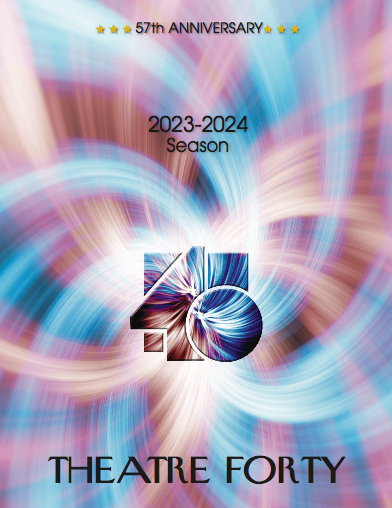 Theatre 40, 2023 – 2024 season is here! 
This new season has provocative dramas, hilarious comedies, charming romances and several premieres on stage. All of the productions will, as always, include Sunday Matinees. Extraordinary special events are planned throughout the year!
And — back by popular demand, in its 21st year — Theatre 40's critically-acclaimed production of The Manor will be returning to Greystone Mansion. They invite all of you to join with the celabration of the 57th Anniversary Season.
57th Season 
Play 1 – Comedy
Doris and Ivy In The Home, Los Angeles Premiere (July 20 – August 23, 2023)
Play 2 – Drama
One Moment of Freedom, World Premiere ( July 27 – August 27, 2023)
Play 3 – Mystery
Towards Zero, Agatha Christie Classic (September 21 – October 22, 2023)
Play 4 – Mystery
The Half – Light, West Coast Premiere (November 16 – December 17, 2023)
Play 5 – Thriller
Strangers on the Train, Based on the Famous Book (January 18 – February 18, 2024)
Play 6 – Comedy
Into the Breeches, New comedy (Macrh 21 – April 25, 2024)
Play 7 – Drama
Power and Light, World Premiere (March 28 – April 30, 2024)
Play 8 – Coemdy
The Explorers Club, Hysterical History (May 23 – June 23, 2024)
** All plays will perform, Thursday, Friday, Saturday at 7:30 PM and Sunday at 2 PM**
Doris and Ivy in The Home
By Norm Foster
Paradise Village. An upscale retirement home, complete with all the classic amenities. Also a spot for upscale seniors to age gracefully while elegantly dining, engaging in polite social discourse, and enjoying genteel parlour games and gatherings….That is until the arrival of Doris Mooney, who makes it her mission to pitch out every pre-conceived notion of just what "senior living" ought to be. Especially for her fellow residents Ivy Hoffbauer and Arthur Beech. Doris is only getting started when she announces on games day:
"So what's on the agenda? Bridge night? Canasta night? Pin the catheter on Murray night?"
For more tickets, click here.
About Theatre 40
Beginning in 1964 a group of actors gathered at the home of Susan French to read the works of William Shakespeare. The address was 40 Haldeman Road in Santa Monica Canyon. Thus the name, Theatre 40.
By 1965, the group led by Susan and John Houlton, vice-consul of the British Consulate General, decided to become more ambitious and produce the plays they had been reading. Theatre 40's first production was The Winter's Tale. In 1966, we produced Twelfth Night and The Merchant of Venice in MacArthur Park. This was Los Angeles' first Shakespeare in the park. Soon after this achievement, we began our association with the Beverly Hills Unified School District by producing our plays at the Horace Mann School auditorium. In 1969, we strengthened our relationship with the school district by creating a theatre appreciation course for their adult education program. When Actors' Equity Association started waiver theatre, we lost our theatre, as it was much too large for the waiver audience size, and for almost a year we were homeless. At this point, Beverly Hills High School offered a large storeroom to us if we could turn it into a theatre. This was in 1974. Click here for more on Theatre 40.