The Importance of a Google Business Profile and How To Get It Started
The Importance of a Google Business Profile and
How To Get It Started
One of the most important tools any local business has for being discovered online is their Google Business Profile account.
While your website is table stakes, your GBP account has a great deal of influence on how visible your brand is on Google search results, so it's vital that you spend some time and effort setting up and optimizing your Google Business Profile.
What is Google Business Profile?
Your Google Business Profile is a section that often appears above (on mobile) or to the right (desktop) of the normal search results. This is most often visible in the search for your business name.
Google technically owns this digital real estate, which looks and feels a bit like a social media profile. Google keeps details about you in this profile based on your website or user-generated updates, such as an address, store hours, and more. Even if you've never created a GBP profile, there may already be one due to consumer interest. This is a big reason you need to claim and optimize your listing.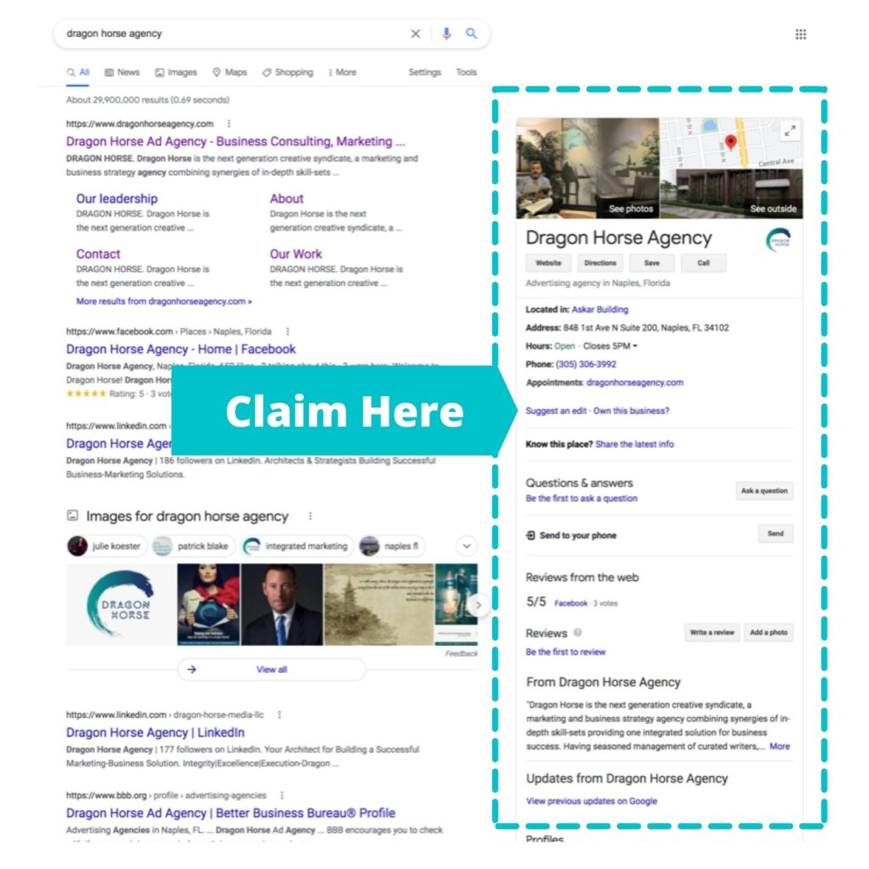 However, there are many reasons to create or claim your GBP listing. Consider these essential search statistics:
According to HubSpot, 46% of all searches on Google have local intent.
An active and optimized GBP listing will help ensure your business shows up when those local-focused queries happen.
A GBP listing appears on more than 90% of these local intent searches.
Often, this is in the form of a "maps pack," a search result from Google that shows several area businesses and their locations on the map. These pin drops are based on your GBP listings. If your business is not part of that result, your competitors get all the real estate.
68% of searchers contact a local business directly from the search engine results page (SERPs).
Local searches are often about the here and now; searchers often don't take the time to vet your website. Providing your audience with a way to reach you immediately when they need your product or service can be a huge win.
Where Your Google Reviews Are Located
One of the most important aspects of a Google Business Profile listing is the fact that Google reviews are stored and showcased in your GBP profile. You have no choice about this, so your best option is to claim your listing and keep a close eye.
Google Reviews are powerful and can help increase prospective consumers' trust. While there's nothing better than a personal referral, a strong Google review is very close. Approximately 88% of consumers trust online reviews as much as a word-of-mouth referrals.
What's New with Google Business Profile?
Although Google Business Profile has been around for several years, new functionality has made it more valuable over the past year or so.
Messaging – You can enable messaging, similar to chat functionality, which allows customers to ask questions and get fast answers.
Posts – Similar to social media, you can upload images and add text to create relevant information for your audience.
Food Orders, Bookings & Appointments – Once you turn on messaging, you can connect to third-party providers or websites where customers can order, make reservations, or set appointments.
Attributes – This may include health & safety information, whether or not you require an appointment or accept walk-ins, and other details that will help potential customers choose your business.
Why It's So Important to Claim Your GBP Listing
Unclaimed GBP listings are like a placeholder for Google. They may store bits and pieces of information but often don't have full business details.
A completed Google Business Profile increases the odds of someone visiting your location by 70% and increases the odds of them purchasing from you by up to 50%. A robust GMB listing with store hours, google reviews, posts, images, and more gives consumers the confidence they need to take action.
Important Actions to Take for your Google Business Profile Listing
Making sure you can be found in a Google search is one of the most basic and important things you can do for your business. Creating or claiming your listing is a top priority. Here are the top actions you should take as soon as you do.
Make sure all critical information is accurate.
Fill out the profile as much as possible, including service area, product categories, etc.

Note: If you do not welcome customers at your office location (i.e., you work from home, or you have a service business that goes to the customer), you can choose to hide your address from your profile.

Add photos regularly, preferably with GPS tagging in place
Respond to reviews and answer questions

Even if a review is not great, just responding shows you are engaged and care about your customers. If someone is purposely spamming reviews, report them to Google and try to get the erroneous posts removed.
How to Claim Your Google Business Profile
Search on your brand name, and add your city if necessary. Make sure the address matches yours. Click on the "Own this Business" link. Google will automatically bring you to the creation interface for your profile.
If your business is brand new and no one has sought you on maps or given you a review, you may need to create a profile from scratch. Go to https://business.google.com/create
Follow the prompts and complete your business information.
Choose verification method (text, phone call, postcard).
Choose whether to let customers message you via your profile. This may be a good option if you are the primary representative for your business. If you are not the primary customer-facing rep, consider your options and whether your team can pick up and respond to these messages.
As you go through the process of claiming your listing, you may also be prompted to advertise on Google. At Dragon Horse, we always recommend that you only move forward with something like this after thinking through a full media strategy. You can burn through a lot of budget if you have not deployed a Google Ads campaign before. With any Google advertising platform, we recommend you tap into a knowledgeable resource for assistance
Dragon Horse Can Help You with Google Business Profile and More
One of the secrets to making your GBP listing work best for your business is regularly contributing new content and responding to reviews. Sometimes that's a lot to take on while also running your business. Dragon Horse is here for you. In addition to developing a solid process to make your GBP listing more prominent, Dragon Horse offers full-service marketing and advertising support. Contact Dragon Horse to help you take your business to the next level if you're interested in pay-per-click advertising, geofencing ads, social media support, or traditional broadcast advertising options.
Let Dragon Horse Agency take your marketing to the next level.
Contact us today:
Dragon Horse Agency
100 Wilshire Blvd, Suite 700
Santa Monica, CA 90401
310.917.1009
848 1st Ave. North, Suite 200
Naples, FL 34102
239.325.5088

Dragon Horse- West Coast Contact:
Robert Kenney
 310.917.1009
rkenney@dragonhorseagency.com
"There is marketing, and then there is business marketing, only at Dragon Horse."