Shop Small With Us on November 25, 2017
Did you know that over 80% of Beverly Hills businesses are small businesses?
Small Business Saturday is a national campaign created by American Express in 2010. There is Cyber Monday and Black Friday – Small Business Saturday is a way to show support for our local small businesses during the holiday season.
Why shop small? According to Civic Economics, "on average, 48% of each purchase at local independent businesses is recirculated locally, compared to less than 14% of purchases at chain stores." Therefore, even though small businesses may not generate as much money as big corporations, they play a vital role in maintaining a healthy local economy. In fact, research shows that 91% percent of small-business owners contributed to their community in the last year through volunteering, in-kind contributions, and direct cash donations, and that's without counting the contributions these businesses make via paying local taxes. By supporting your local business, you are giving back to the community; join the Chamber in participating in Small Business Saturday on November 25, 2017.
Go out and 'SHOP SMALL' Beverly Hills!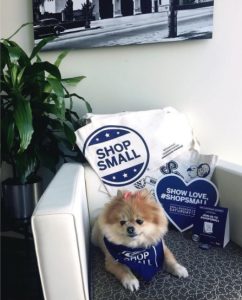 Throughout the month of November, the Chamber will produce Small Business Saturday themed events, as well as inform our members of specials and deals through our newsletter and social posts. Please stay connected to learn more about the day. Subscribe here.
Small Business Saturday Festivities in Beverly Hills:
Launch Party Mixer, Thursday, Nov. 9, 5-7pm, The Stinking Rose

Complimentary – to register, click here
Includes: special information and giveaways to Beverly Hills businesses

Small Business Saturday Rally, Nov. 25, 9-10am, Beverly Canon Gardens

Includes: goodies and delicious treats from Sweet Beverly, giveaways and more

Small Business Saturday Walk with the Mayor, Nov. 25, starting at 10am

Join the Mayor and a team from the Chamber to walk with us in support of our city's small businesses
Look forward to the following business stops including but not limited to:

Get Threaded
Laduree
Nate'N Al
Gratitude Beverly Hills
Edelweiss Chocolates
Pussy and Pooch
Alfred
Official route TBA