Race 4 Good: The Starting Line Up
Imagine creating a business plan in 3 weeks that implements a lasting solution to the economic pitfalls of an imperiled village. This is the Race 4 Good.
Started by renowned global humanitarian, Linda Cruse, the Race 4 Good is a competition that revolutionizes the philanthropic gesture of a hand out by giving real-life "hand ups" to third world communities to promote profound and sustainable change to their lives and economy. How the competition works is by grouping together 6 teams comprised of 5 students from local universities and 5 business leaders as mentors. The teams have 21 days to research the most pressing challenges faced by their given community and come up with a 5 year business plan that aims to reconstruct the economy, revive the dignity and restore the future of the lives that need it the most – all with a virtual budget of $5,000. The winning team is flown to the third world community to make their business solution a reality, with the full support of Linda, her team and the villagers.
On March 11, 2017, the Race 4 Good took off in Southern California with unparalleled teams in place! Participating schools include Claremont University Consortium (CUC), California State University Los Angeles (CSULA), California State University Northridge (CSUN), University of California Los Angeles (UCLA), University of Southern California (USC), and University of San Diego (USD). Each team is incredibly well-rounded and diverse, with students contributing unique areas of study and expertise. The business leaders and mentors are equally impressive, coming from industries ranging in film, technology, philanthropy, real estate, and beyond. You'll even recognize a lot of the Beverly Hills Chamber members in the line up!
Meet the teams!
Team CUC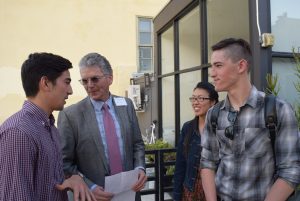 Business leaders:
Matt Ball, Director of Public Affairs, LDS Church
Elizabeth Crowell, Associate Relationship Manager, International Subsidiary Banking HSBC Bank
Christine Krenos, Sotheby's International Realty
George Cunningham, COO, Rose Bowl
Buzz Chatman, Director/Producer/Editor
Students:
Pallavi Deshpande, Economics / Accounting
Herrick Fang,  Mathematics / Engineering (Team Lead)
Jacob Williams
Darien Joso Engineering
Team CSULA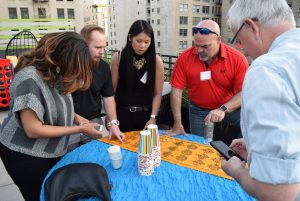 Business Leaders:
Jeff Huening, VP, International Subsidiary Banking HSBC Bank
John Hoye, Business Development Leader
Molly Ann Mroczynski, Cheif Development Officer, New Directions for Veterans
Todd Johnson, CEO, Beverly Hills Chamber of Commerce
Robert Egger, President and Founder of LA Kitchen
Students:
Patrick Canod, Psychology & Social Behavior
Brenda Sanchez, Mexican-American Social Work (Team Lead)
Teryn Hara, Sociology & Asian American Studies
Karina Servin Calderon, Social Work
Priscilla Gonzales, Social Work
Team CSUN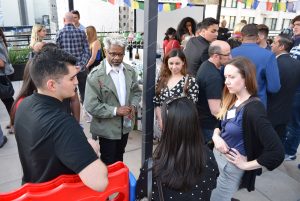 Business Leaders:
TJ Walker, Fashion Digital Instructor, LA Trade Tech College
Emma Kong, Regional Resource Manager, HSBC Bank,
Alex Racioppi, Entrepreneur/Investor
Megan Roach, Marketing and Business Development
Wayne Klatt, Financial Advisor, StockCross
Students:
Ryan Robles, Business Management;  Sustainability minor (Team Lead)
Apekshya Bajracharya,  Civil Engineering
Vardan Kajberuni, Economics
Silvina Hernandez, Economics
Apekshya Khana, Computer Engineering
Team UCLA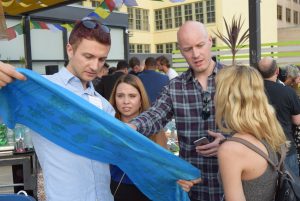 Business Leaders:
Dolly Singh, Director of Talent, Oculus VR/CEO and Founder of Thesis Couture
Vanessa Kell, Boutique Manager, Jo Malone
Peter Weinberger, Attorney
David Freeman, Corporate Relationship Manager, HSBC Bank
Rohan a'Beckett, Real Estate Developer, Wanda Group
Students:
Ahmad Elayyan, Economics
Alexandra "Alexa" Libro, Neuroscience (Team Lead)
Kyle McEachron Evans, Civil and Environmental Engineering
Tassaya "Toffy" Charupatanapongse, Geography; Global Studies minor
Dan Patel,  Environmental Science
Team USC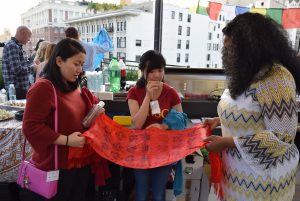 Business Leaders:
Charles Black III, Executive VP, Marketing & Strategic Development, Hilton & Hyland
Scott C Pendrey, Associate Relationship Manager, HSBC Bank
Lawrence Wosskow, Commercial Property Development and Investment
Dena Burton, Fashion Designer/Founder of The Dena Burton Collection
Jeff Cooper, Independent Commercial Loan Broker
Students:
Megan D'Souza, Business Administration and Computer Science
Veerali Juthani, Pediatric Occupational Therapy (Team Lead)
Wai-Chung Sarah Chan, Business Administration
Hanqi Ni, Applied and Computational Mathematics
Tsam "Sanny" Ning, Psychology
Team USD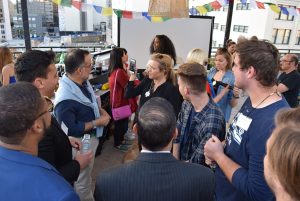 Business Leaders:
Caesar Morera, CEO, Lion Heart Lifestyle
Rey III Viquez, CEO, Rey 3 Collection
Shaun Lee, Associate Relationship Manager, HSBC Bank
Carl Morandell, Sales Manager, Morandell Imports
Morgan Fisher, Home & Business Energy Efficiency
Students:
Tanner Wilkey, Political Science (Team Lead)
Ayodeji Bandele, Industrial Engineering
Ashley Brown, Philosophy/Political Science
Janaye Lynn Perry, Sociology/International Business
Zachary Farber, Philosophy
With the Race 4 Good in full throttle, the teams are hard at work coming up with innovative and tangible solutions for the villages in need. Only 2 more weeks left – who will take home the prize?
---
To find out more about the Race 4 Good and how you can get involved with Linda Cruse's humanitarian work, please visit www.lindacruse.com/race4good/