La Peer Hotel Debuts in the Heart of West Hollywood's Design District
A Harmony of Design, Style and Unique Amenities Await Guests at the New Boutique Hotel
La Peer Hotel has officially opened its doors, ushering in a new era of luxury for West Hollywood's bustling Design District. The boutique Kimpton hotel is an intimate oasis perfectly positioned between the famed streets of Santa Monica Boulevard and Melrose Avenue. Reflecting the surrounding neighborhood's emphasis on design, art, and style, the 105-room hotel features inspired indoor and outdoor public spaces that truly set the tone for this urban retreat, a secluded pool accented by thoughtful landscaping and custom-made lanterns, and a 4,000-square-foot private rooftop event terrace. Handcrafted art pieces and custom designs are found throughout the hotel, contributing to the overall creative energy. In addition, renowned Chef Casey Lane's newest LA endeavor – Viale dei Romani – is situated off the lobby area bringing a modern take on Italian and Mediterranean cuisine to Los Angeles.
"La Peer Hotel aims to bring a sense of 'unbuttoned luxury' to LA's most walkable neighborhood in the Design District of West Hollywood," says General Manager Nick Rimedio. "The project has been an inspiring journey in preparing to realize a vision where we will offer our guests a chic yet totally engaging 'home away from home' defined by intuitive service and extraordinary dining by Casey Lane, among so many other amenities that will create experiences that are simply sublime. As the first hotel to ever open in the Design District, our goal is to become a beacon for the community where our neighbors are proud to call us one of their own and visitors get a unique view of life in West Hollywood."
Design
Gulla Jónsdóttir is the principal designer of La Peer Hotel, with a reputation for integrated work across the fields of architecture and design. La Peer Hotel holds particular significance for Jónsdóttir, as the site of the hotel is also the original location of her first studio in Los Angeles. With an overall aesthetic that is chic and comforting with a brushstroke of understated elegance, La Peer Hotel features earth tones and natural materials, such as concrete and leather walls, white oak wood flooring, plaster walls, liquid surfaces, and bronze columns. Combined with the custom furniture, art abounds at every turn. Bespoke designs include curved brass ceiling details, a leather cocoon wall, and six-foot round light sconces that emit an ambient glow in the lobby lounge. Hand-selected paintings, photography, and poetry from Jónsdóttir's colleagues and friends are interspersed throughout the hotel as well, such as Kahori Maki's incomparable elevator design and the first collaboration between internationally renowned graffiti artist Retna with artist Guerin Swing that created a stunning installation for the hotel's backyard courtyard. La Peer's ground floor is also home to Jónsdóttir's studio gallery, Atelier Gulla Jónsdóttir, where guests will have the opportunity to peruse and procure some of the artwork and furniture found throughout the hotel.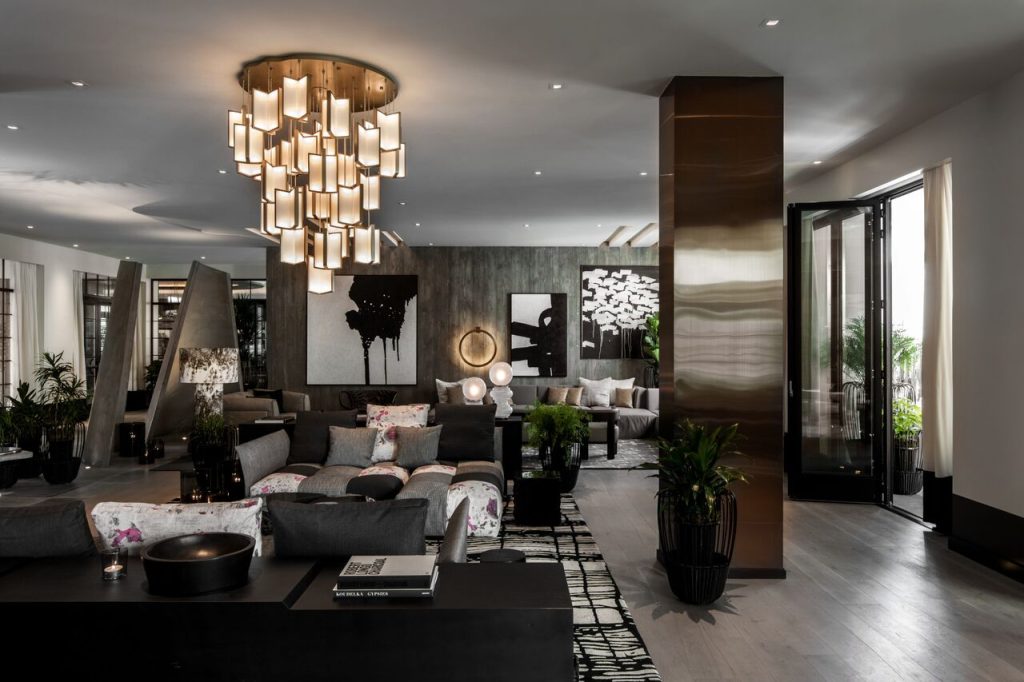 The sophisticated vibe is continued throughout the guestrooms with features of grey and beige patterned tile. The Signature Rooms showcase white oak herringbone wood floors and a luxurious open bathroom with a free-standing tub as well as a separate large shower with a geometric shaped window looking out to the room itself. The Design Suite offers a living room, high ceiling, and a modern design with white oak floors and concrete walls. The one-bedroom suites have a comforting feel and luxurious sense of style in a light color palette. The penthouse on the fourth floor will feature Jónsdóttir's own furniture collection "Heimaland"—a journey of the senses of custom one-of-a-kind art pieces. The flooring will be a striped pattern of charcoal and light grey wood floors throughout, while the walls will be two-toned black and earth grey showcasing paintings and neon art. The large terrace overlooking the hills will feature a lounge and dining area, greenery, and a fire pit.
Food & Beverage
Viale dei Romani, a new restaurant concept created by Casey Lane, offers guests and locals an energetic dining experience at La Peer Hotel. Inspired first by Lane's trips to the Mediterranean coasts, the seafood-driven cuisine highlights the principles of Italian cooking with broader Southern French and North African influences. The menu draws from the rich and far reaching culinary history of the Kingdom of the Two Sicilies, and the Moorish impact on the southern European Coast. Highlights include wood-fired seafood, raw fish preparations, pasta, pizza, and the traditional chickpea crêpe Cecina served with falafel, crudo, and marinated local vegetables; as well as a world class bread program and pastries – with all offerings crafted in-house and by hand.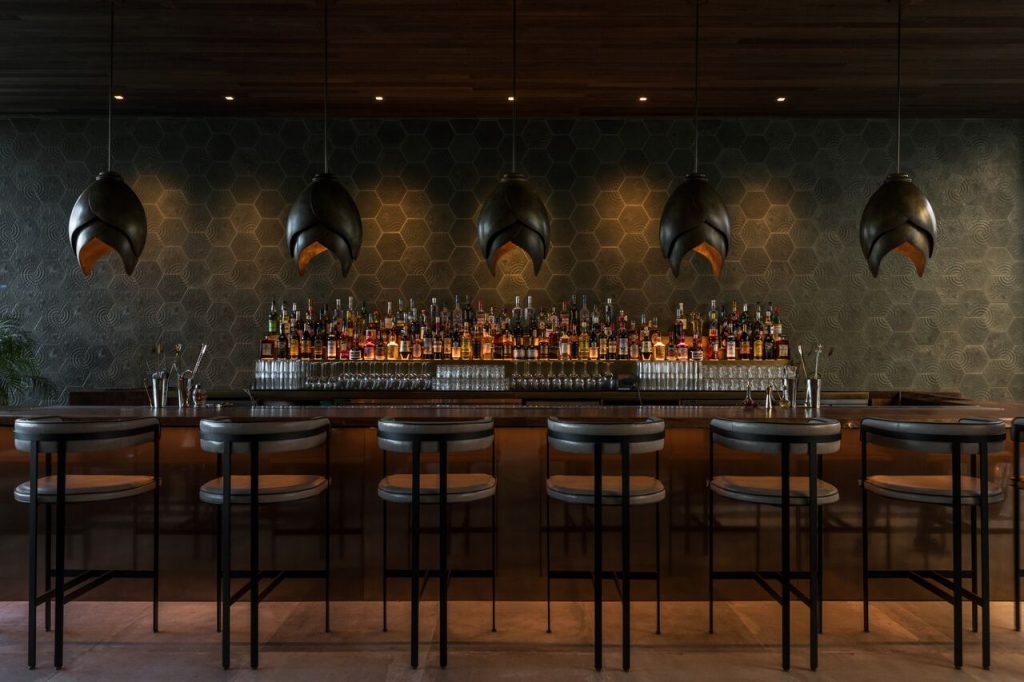 Programming & Partnerships 
Guests of La Peer Hotel can enjoy an array of tailored health and wellness programs. Environmentally friendly Jade Yoga Mats are placed in each room for complimentary use, alongside the ability to awaken to the southing sounds of meditation with the custom Yoga Wake Up app, recently featured as the "New Apps We Love" by Apple.  Locally renowned resident trainer Marco Reed/Gentry Jackson oversee all fitness classes and adventure packages, and is available for individual training sessions, as well as offering diet and meal planning for guests looking to further their commitment to healthy living.
Hotel amenities at La Peer Hotel include room service reimagined with custom picnic baskets, a bath menu with butler service, and In Room Bottle Service that brings craft cocktails to the fingertips of every guest. La Peer has partnered with Toasted & Roasted to provide guests with an unmatched coffee experience, as well as Kombucha Culture and Clover Juice to round out the hotel's beverage offerings.
Enhancing the exciting rotation of happenings on property, La Peer offers guests a variety of ways to explore the surrounding neighborhood. A partnership with Bikes & Hikes LA provides several bike tours to explore the best of Beverly Hills and West Hollywood. Upon arrival, each guest can pick up their La Peer Neighborhood Guide, designed by local artist Katie Bright to celebrate LA's most walkable neighborhood. The passport is a pocket-sized neighborhood guide designed as an "Instagrammable tour" of the district's top hotspots for the arts, shopping and nightlife, all within a one mile radius of the hotel.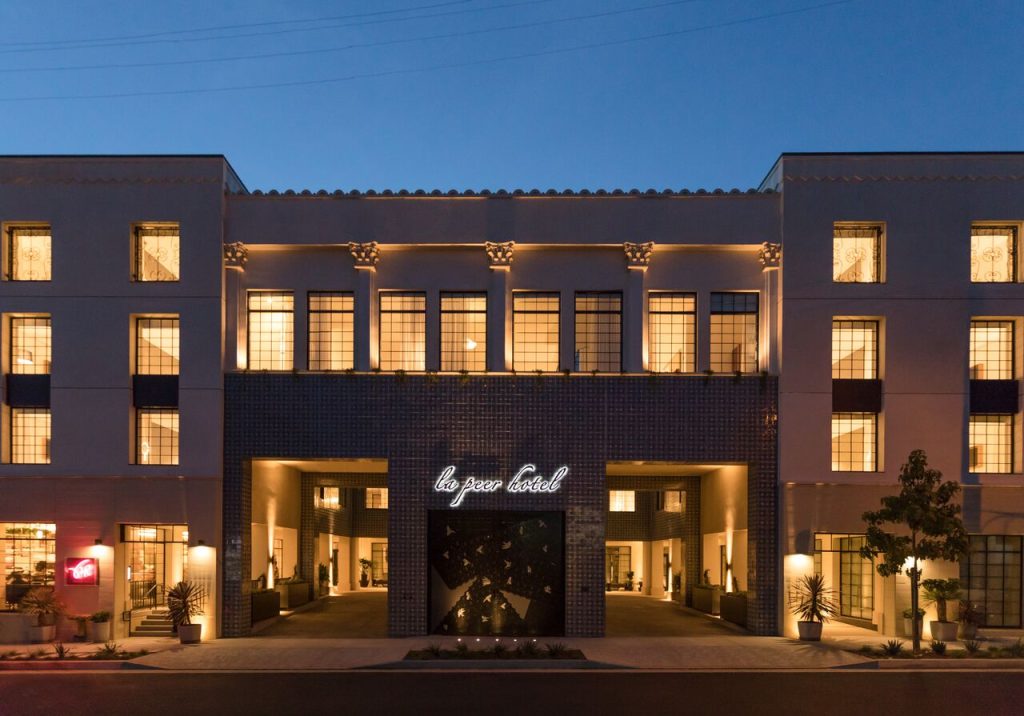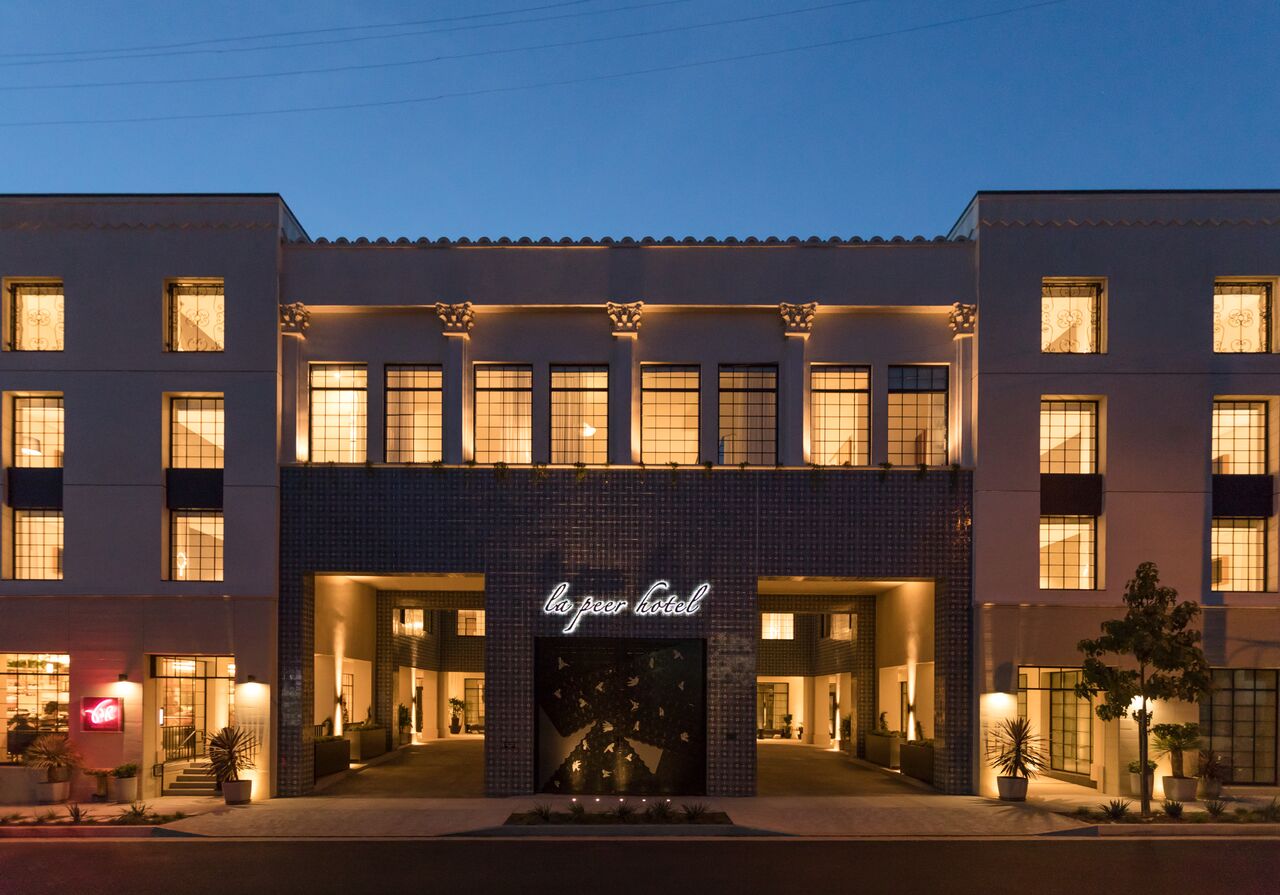 ---
For more information, please visit www.lapeerhotel.com or call (855) 239-4324.