Economic Forum Hosted by Torrey Pines Bank Delivers Late-2023 Forecast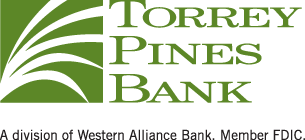 Economic Forum Hosted by Torrey Pines Bank Delivers Late-2023 Forecast
News outlets portray an economy in dire straits, but according to economist Dr. Christopher Thornberg, peeling back the layers tells a different story. It's what Thornberg calls the gap between narrative and reality, which he cautions can lead to bad decisions and macroeconomic danger.
"When the stories we tell each other are highly aligned with basic economic realities, this is when our models work," Thornberg said at a recent Southern California economic forum hosted by Torrey Pines Bank. "Too often, we're in a different place … where the narrative and reality are not on base. This is when households are making weird decisions, policymakers are pursuing the wrong goals and businesses are making bad investment decisions."
While today's headlines may spell doom and gloom, Thornberg said the reality is quite different.
The pandemic triggered the deepest recession on record, with a 30% decline in gross domestic product (GDP) during Q2 2020, but it was also the shortest, with a 30% rebound in Q3.
American households had about $1.3 trillion cash on hand in Q4 2019, which has increased to about $4.5 trillion. This increase isn't limited to billionaires — the bottom 50% of households are up 100% in cash on hand.
Consumer spending rose 50% from the beginning of 2022 to the middle of the same year and continues to increase, growing 2.5% in the Q1 2023.
"For all this pessimism, the U.S. economy is clearly not in a recession right now, nor are we even close to one," Thornberg said. "This is an economy that's running at full blast."
Employment
The biggest problem businesses have today is the same as it was two years ago: They can't hire enough people, contributing to the strength of business investments to address the issue.
The national unemployment rate is at 3.4% — the lowest since 1968 — and job openings are increasing nationwide, including in California, where the unemployment rate is 2.5%.
As a result, Thornberg said, cities that want to grow their economies must increase their labor force.
"The places that have grown — Inland Empire, Sacramento, San Diego, Fresno, Bakersfield — they all have growing labor forces," he said.
Labor shortages were present pre-pandemic due to slowing overall population growth, especially among baby boomers in their prime working years. The pandemic exacerbated the issue as it prompted early retirements.
"Labor shortages are here to stay unless we figure out how to fix our immigration system," Thornberg added.
Housing
California can take a step toward solving its labor shortage by building more housing. The state has the lowest vacancy rate it's ever experienced, which is prompting some people to leave.
However, it's important to note that the vacancy rate isn't necessarily rising. Situations like divorce or professionals seeking independent housing contribute to the housing demand.
But building more housing when the market is undergoing a correction is challenging. Sales are declining and prices are dropping, but the pandemic saw a phenomenal 40% increase in housing prices, and interest rates shot up from 3% to 7%.
Thornberg emphasizes that the current situation is not a meltdown comparable to the Great Recession. Unlike the previous crisis driven by factors like bad debt and lack of equity, homeowners now possess substantial equity, and foreclosures and bankruptcies are at record lows.
According to Thornberg, "the problem in housing is very simply a lack of supply."
Homeowners paying 3% interest are reluctant to move and acquire a mortgage at 7%, so they're asking higher prices. That's one of the reasons rents are rising — and likely not dropping as the market corrects.
Commercial Real Estate
The commercial real estate market is reasonably healthy, with increased nonresidential construction spending, stable retail vacancy rates and a decrease in industrial vacancies.
The office sector is struggling because many people, primarily in the tech sector, aren't returning to the office. That's impacting markets like San Francisco, Portland and Seattle, while people are going back to the office in places like Fresno and San Diego.
But Thornberg views the empty office space as an opportunity to change zoning rules, tear down buildings and build new condos.
The current state of the U.S. economy shouldn't be a surprise, Thornberg said, as rising interest rates, surging inflation, and declining asset values are the consequences of the Federal Reserve's excessive stimulation three years ago in response to the pandemic.
Thornberg predicts asset prices will continue to decline because they got too high over the past few years. Otherwise, he said, the fundamentals of those assets will be fine.
"While there's obviously going to be weakness in real estate and finance, consumers and businesses can more than offset that," he added.
Torrey Pines Bank, a division of Western Alliance Bank, Member FDIC, delivers client-centric relationship banking. Founded in 2003, Torrey Pines Bank offers a full spectrum of tailored business banking solutions and outstanding service, with offices throughout Southern California. As a regional bank with significant national capabilities, Torrey Pines Bank delivers the reach, resources and local market expertise that make a difference. For more information, visit Torrey Pines Bank.
To watch the presentation, click here