Beverly Hills Celebrates the Holidays!
Kicking off November 18, the streets of Beverly Hills will light up for the 2021 holiday season. 
In collaboration with the City of Beverly Hills, Rodeo Drive Committee, Conference and Visitors Bureau, Chamber of Commerce, and many incredible community businesses, this year's immersive holiday festivities will ring merry and bright! 
The annual Rodeo Drive Holiday Lighting Celebration kicks off in sparkling style on Thursday, November 18, 2021 from 5 – 8 PM and will include spectacular evening performances, festive holiday helpers, towering Christmas Tree Girls, an Ice Queen, and whimsical décor of glowing elves in silver and gold along Rodeo Drive. Additional entertainment for the evening, along the world-renowned three-block stretch of Rodeo Drive includes,  three exciting outdoor performance areas for a non-stop evening of entertainment including: 
A live performance of a holiday classic from Richard Curtis's beloved holiday movie,

Love Actually

by an all-star cast performing on the occasion of Love Actually LIVE, the multimedia musical celebration taking place at The Wallis Annenberg Center for the Performing Arts in Beverly Hills (The Wallis)

The Noelles, an all-female a cappella quintet with sparkling 60s style, who will dazzle guests with soulfully arranged tunes reminiscent of a bygone era

A special performance by 18-year old Gabriella Valdes, better known as

Vella,

whose latest release "Blue" features Macy Gray

The award-winning Skating Aratas, who will delight visitors on the sidewalk with their roller-skating

An awe-inspiring balancing act by America's Got Talent winners Christian & Scooby, in which Christian Stoinev spotlights his beloved acrobatic chihuahua
Santa Claus and Holiday Helpers will arrive on a vintage 1920s Beverly Hills fire truck and the evening will conclude with Beverly Hills Mayor Bob Wunderlich and fellow Beverly Hills City Council members, who will illuminate the length of Rodeo Drive with an abundance of lights before a glittering finale of fireworks.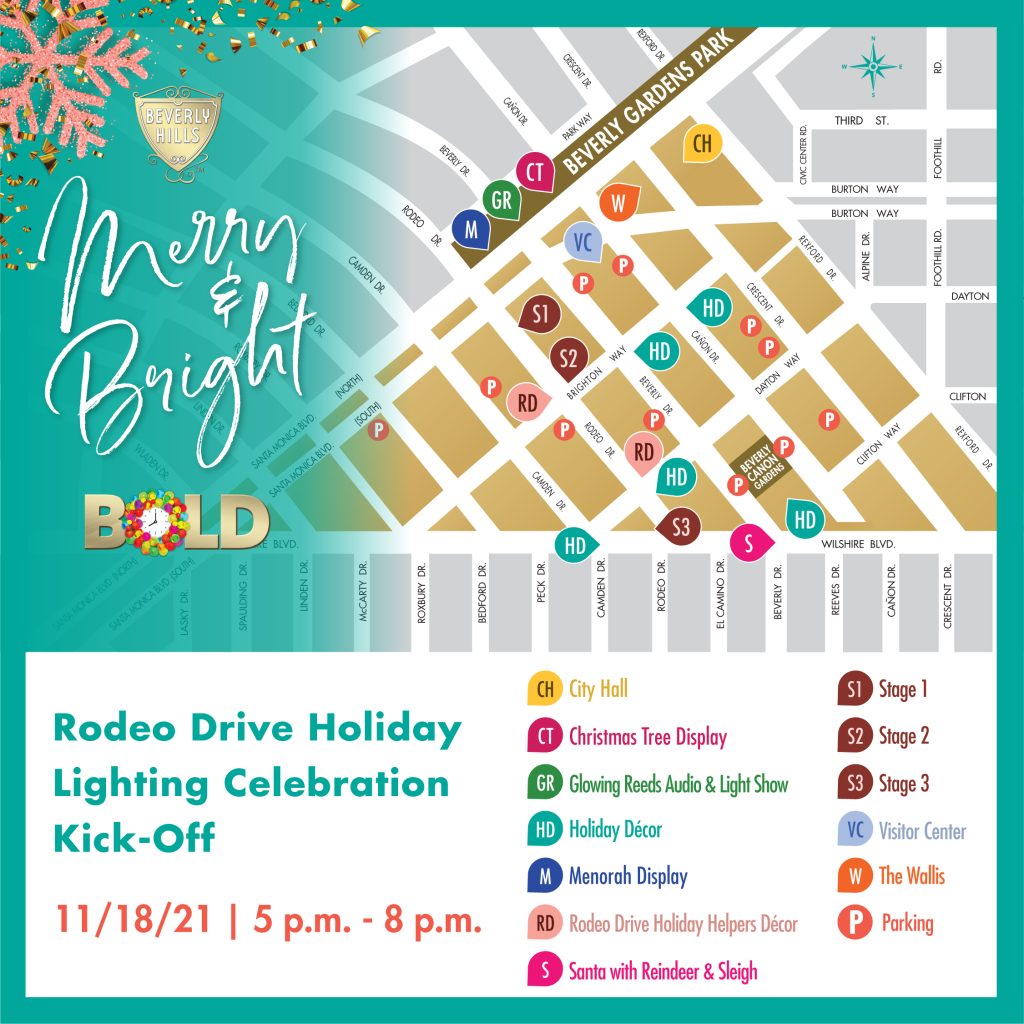 Delicious food and festive beverages will be available for purchase throughout the evening.
The holiday festivities will continue across the City from November 18 through January 1, 2022 with the following installations available for viewing nightly: a spectacular Glowing Reeds Audio and Light Show at the Lily Pond, a larger-than-life Elf Tree and Light Tunnel at Beverly Cañon Gardens, sparkling street lights overhead, and more. 
The health and safety of visitors and the community remains a priority. All visitors to the Rodeo Drive Holiday Lighting Celebration are required to wear a mask and maintain social distance. For those that are not able to attend in person, you may watch a LIVE Stream of the final hour of performances including Santa's arrival and the fireworks from 7 – 8 PM viewable at www.beverlyhills.org/live or on Cable TV Channel 10 for those within the City limits of Beverly Hills.
Learn more by visiting beverlyhills.org/holidaysbh.
The Rodeo Drive Holiday Lighting Celebration is produced for the Rodeo Drive Committee by J. Ben Bourgeois Productions, Inc.