An Immersive Journey into the Louis Vuitton X Exhibition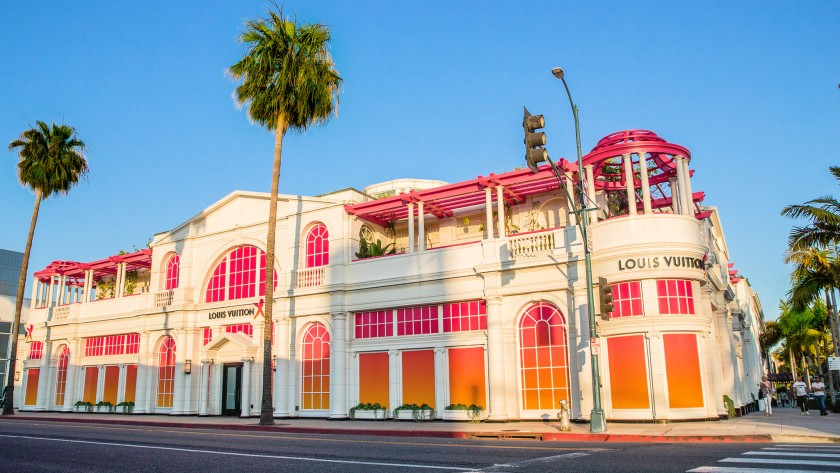 Before New York or Paris, the immersive journey through Louis Vuitton's 160-year history of creative exchanges and artistic collaborations has found its place in Beverly Hills. Taking over two floors of the iconic 468 North Rodeo Drive building, Louis Vuitton X draws on over 180 items from Louis Vuitton's archives and scenography to trace the House's pioneering journey. The exhibition showcases a remarkable collection of early twentieth-century special order trunks, beautiful art deco perfume bottles and window displays commissioned and designed by Louis Vuitton's grandson Gaston-Louis, as well as iconic Monogram bags reworked by the following renowned artists and designers: Karl Lagerfeld, Rei Kawakubo, Cindy Sherman, and Frank Gehry, and original collaborations and commissions by artists including Yayoi Kusama, Richard Prince, and Zaha Hadid.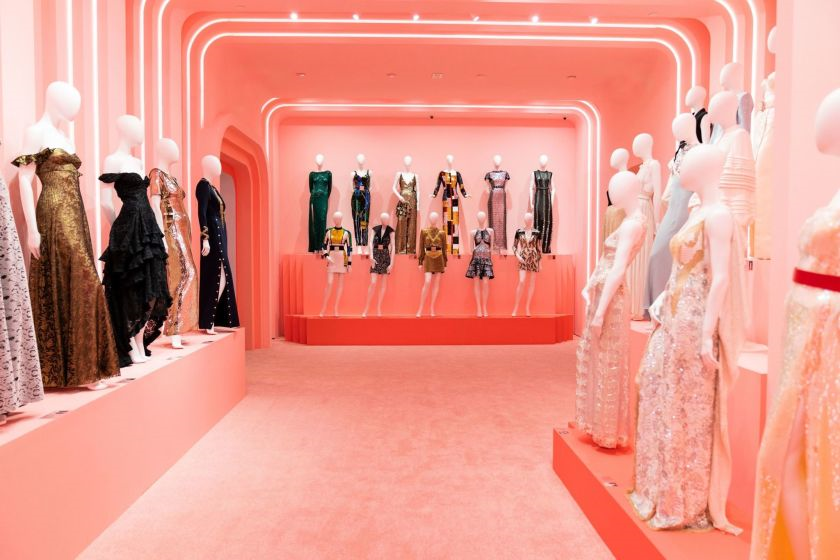 Louis Vuitton X is a rich and engaging experience and an exhilarating exploration of Louis Vuitton's ongoing dialogue between the past and the future, heritage and modernity, savoir-faire and innovation. The "Lights, Camera, Action! Louis Vuitton on the Red Carpet" features 31 Nicolas Ghesquière-designed contemporary looks worn by the brand's celebrity fans and ambassadors. From Alicia Vikander's silk evening gown with embroidered sequins she wore to the 22nd SAG Awards, to Sophie Turner's embroidered silk and sequin Centre Pompidou-inspired-design from this year's Met Gala, this portion of the exhibit will leave you in awe.
The exhibition also marks the world premiere of the ArtyCapucines Collection for which six contemporary artists re-imagined the brand's classic Capucines bag. Artists Sam Falls, Urs Fischer, Nicholas Hlobo, Alex Israel, Tschabalala Self and Jonas Wood brought their own unique takes to the limited-edition collection.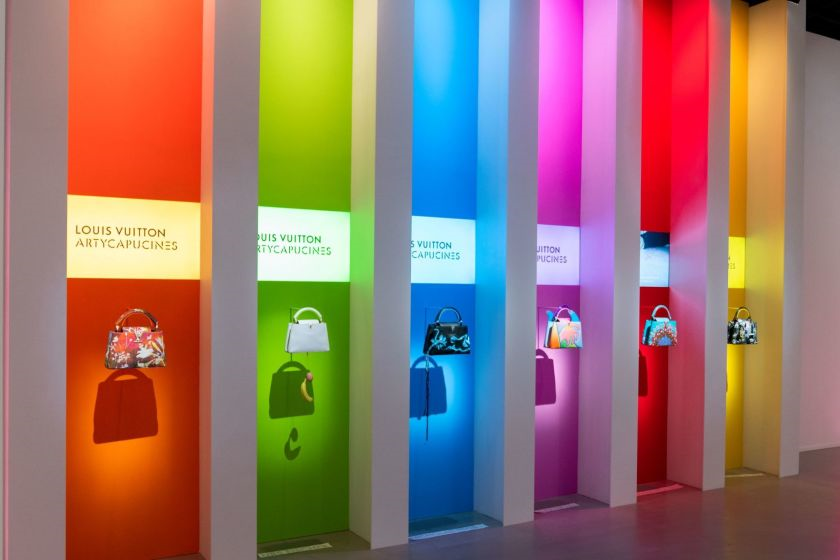 Israel designed a handbag decorated with a bright wave that includes quirky details such as a hidden comb and mirror; Woods utilized digital printing and 3-D embroidery for his piece; Fischer created a playful, handcrafted fruit and vegetable design with a detachable silicone banana (or other fruits and vegetables depending on one's preference); Hlomo's creation features a hand-laced and stitched leather pattern; Self embraced embroidered leather patchwork for her bag; and Fall's includes a delicate mother-of-pearl design. Only 300 bags of each design exist. Six samples will remain on display at the exhibition after the bags are sold out.
The exhibition also includes a pop-up shop on the top level of the venue. The featured products were curated by Sarah Andelman, the former creative director of Colette. The pop-up includes women's ready-to-wear, leather goods, accessories, shoes, fragrances, items from the brand's Objets Nomades collection and travel books.
A few items are exclusive to the temporary boutique. They include a hot-stamp Beverly Hills luggage tag and card cases, an Israel-designed silk wave scarf and a special-edition hardcover book about the ArtyCapucines Collection.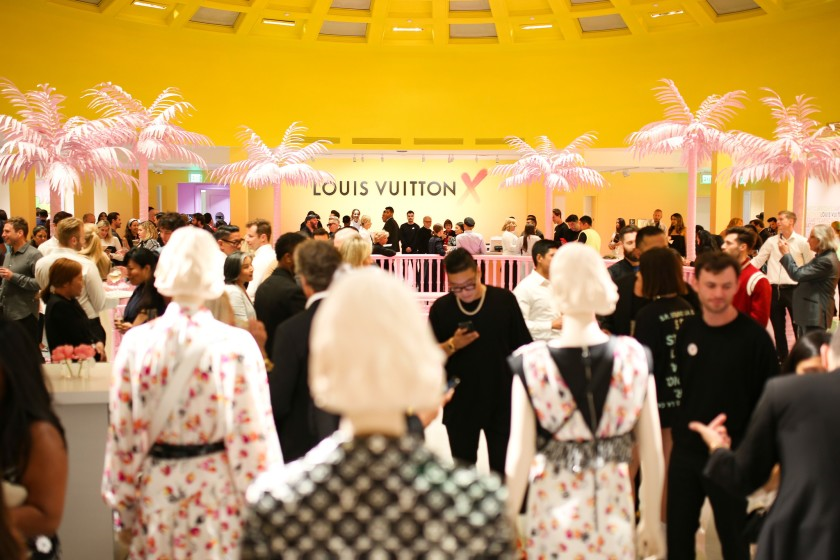 Make sure to bring along your phones, as Louis Vuitton X has created an interactive social media experience. As guests walk through the 10 rooms and two floors, they can scan a bar code to unlock X-ray and technicolor filters that are exclusive and unique to the space. Snapchat also worked with Louis Vuitton to create a 3-D filter for the exhibition.
This complimentary experience is open to the public until September 15th, 2019, Monday through Saturday 10:00am to 9:00pm, and Sundays 11:00am to 7:00pm.  Don't miss your chance to take part in this incredible exhibit. To read more, click here.