How Gratitude Beverly Hills is Innovating in the Food Service Industry
Posted by admin on August 9th, 2018
Categories : Business Features, Health
Industry : Culinary
Winner of the Best of Beverly Hills Golden Palm Award – Innovation
Gratitude's mission is Love is Served. Their culture is built on being grateful. Gratitude is working to support a regenerative food system that restores life by improving our climate, soil, water and health through offering organic, plant-based cuisine.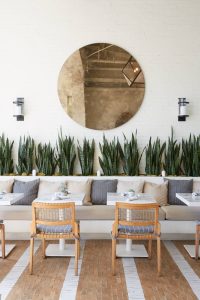 Gratitude began with Matthew and Terces' idea of sitting around a kitchen table being grateful. This idea developed into a café where the staff and customers are inspired to be grateful no matter what their circumstances might be. They first created a board game called The Abounding River, which is a game played by moving around a board practicing on focusing attention on these six qualities: Responsibility, Worth, Love-Acceptance, Gratitude, Generosity and Abundance. In the early years, the original concept "Café Gratitude" was a "live version" of the game. The question of the day and the clearing are two aspects of the game that are still part of their culture today. The original game is still sold in the retail section of their restaurants. Café Gratitude's intention is to continually develop the workplace as an opportunity to create a healthy community through utilizing the communication tools outlined in Sacred Commerce, a book written by the Engelharts, while keeping their hearts open and exercising the power of gratitude. Over the years, they continue to be inspired by the difference this business model makes in the lives of their employees as well as their customers, which led to the creation of Gratitude, an elevated rendition of Café Gratitude.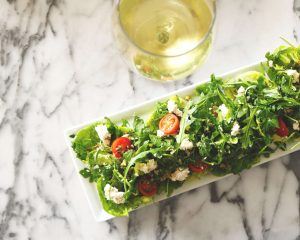 Gratitude combines exceptional service and culinary excellence in a relaxed and approachable, yet bustling atmosphere, creating a completely unique dining experience that gives customers a place to visit on every occasion. To achieve their mission of exceptional service and culinary excellence, they strive to build a very strong team. They seek individuals for their friendliness, intelligence, work ethic and professionalism. They select the finest organic ingredients to honor the earth and themselves. They believe these to be one and the same. Gratitude supports local farmers, sustainable agriculture and environmentally friendly products. Their food is prepared with love. They partner with only those growers and suppliers who provide superior food and beverage products and whose sense of caring and excellence is aligned with their own. They strive to inspire one another, their guests and their industry by setting a standard of excellence in all that they do. To that end, they will honor their own efforts at the end of each day and welcome each tomorrow as an opportunity to improve. LOVE IS SERVED!
Gratitude Beverly Hills is the recipient of the Best of Beverly Hills Golden Palm Innovation Award. Celebrate this tremendous honor on October 15, 2018 at Montage Beverly Hills from 6 – 9 PM. For details on the event, click here.
Share This Page: