Creating jobs amid a pandemic: GEM Travel Club creates nationwide opportunities in an industry that lost over $500 billion in spending in the U.S. alone this past year.
Posted by Admin on March 8th, 2021
Categories : Business Features
Industry : Travel

It does not go unnoticed that the date of this blog post is one year this week since our city was impacted by a global shut-down due to Covid-19. On March 10, 2020, as the then Director of Membership for the Beverly Hills Chamber of Commerce, I contacted sponsors less than 24 hours before one of our biggest in-person events of the year informing them that we must postpone due to pending mandated closures by Los Angeles County that would soon follow. The lack of understanding and confusion was quickly overcome by shock and grief as we watched the lights of most small businesses including travel, entertainment & hospitality industries go dark all around the world. Many indefinitely.
Rightly so, attention was immediately directed toward those ill with Covid, as well as our first responders, healthcare workers, Covid-19 relief suppliers and the numerous restaurants that stepped up to provide meals for all of them. Communities around the world spent the past year focused on creating ways to assist local businesses and retailers to open safely… at least those that were deemed essential to do so. And here we are one year later in March 2021. They say hindsight is 20/20, but personally I am happy to say 2020 is in hindsight. It is time to look forward and do what we can to get all industries back to business.
---
$500 billion in lost travel spending, resulting in $64 billion in missed tax revenue.
There is no doubt that 2020 has been challenging for all, but unfortunately, the devastating impact on the travel, entertainment and hospitality industries has had little attention up to now.
---
According to U.S. Travel Association:
"The decline in travel due to COVID-19 has devastated our economy and torn at the very fabric of our society. Of all jobs lost nationwide, 39% are in leisure and hospitality.* Our economy suffered shocking economic impact—nearly $500 billion in lost travel spending, resulting in $64 billion in missed federal, state, and local tax revenue since the beginning of March [2020]. "
*Those figures at the time (Feb 2021) were the travel-dependent leisure & hospitality losses and had not yet taken into count the loss of employment income for individuals. U.S. Travel Association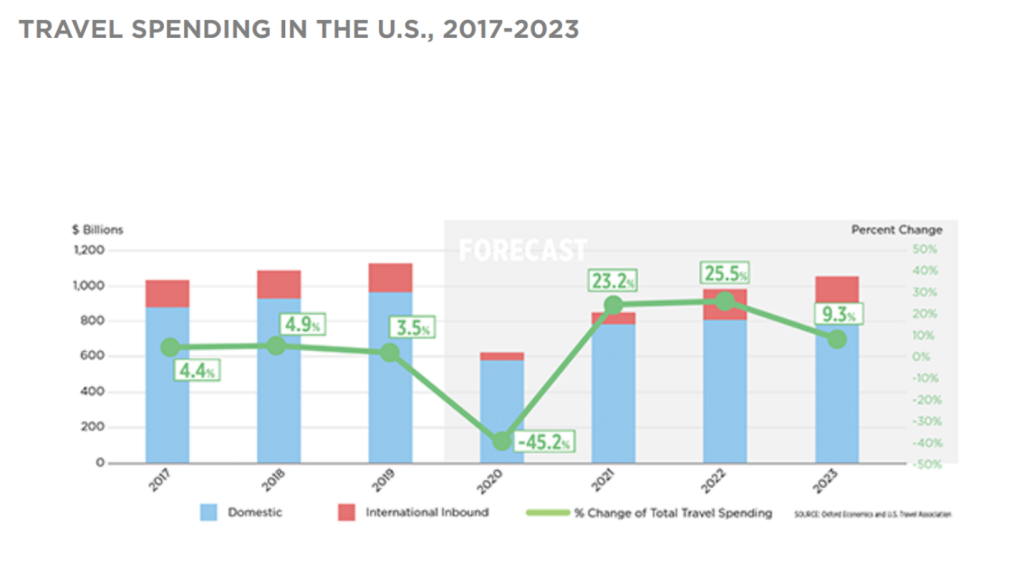 Travel Spending & Forecast by US Travel Association
---
Of all jobs lost nationwide due to Covid-19, 39% are in leisure and hospitality.
From an outsider's perspective, one can see where not going on a cruise or not attending a performance on Broadway or missing your facial appointments all seem like small "entertaining luxuries" we can forego and sacrifice for the sake of humanity. What is lost on those who may not realize the gravity, are the people's livelihoods, some decades in the making, taken from them in an instant on the back end of those closures. The cruise line industry alone has over 300 vessels worldwide with an average of 1,000 crew members aboard each one. That is over 300,000 employees furloughed instantly when the cruise lines were mandated to shut down. That does not take into count the endless supply chain of vendors and their employees that were sacrificed as well. Multiply that by the dozens of industries including airlines, hotels, event venues and more. This is the reality for millions who may never get their dream jobs back… and it is the story behind our "why".
---
Not all lockdowns are created equal.
For so many, an entire year has gone by without seeing family members in person or enjoying a vacation where we create those amazing memories that last a lifetime. This is time we won't get back and we are not guaranteed in the future. With the mission of reigniting the leisure and hospitality industries to help all those we know impacted by these closures, we set out to connect with our strategic partners in all corners of the world to discover destinations, both domestic and abroad, that welcome travelers today while checking in and staying virtually connected with those in areas not quite ready for visitors.
It is refreshing to see that travel, while not available everywhere, is still possible in locations that have successfully balanced opening with proven safety precautions and even discovering those that never closed at all. By creating a community of like-minded travelers and connecting them with our trusted partners, we aim to be that trusted partner of yours that will provide peace of mind through vetted information and connections to help you start making lasting memories again with your loved ones.
---
Even avid travelers hesitant to take their first trip because of unknowns.
With the vaccine being distributed globally and with science starting to support broader openings, there is no doubt people will be ready to explore travel options again soon, however, there is a whole new level of unknowns that may prevent the once avid traveler from taking that initial step. What are the new Covid-19 related travel restrictions, law, rules & regulations for any given destination around the globe? Where are you able to travel now? Does that country require a Covid-19 vaccine or negative test upon arrival? What are their current conditions? Is the city open and active? What can we expect when we arrive? What happens if we need assistance while traveling, etc.
These are all questions that we will provide the answers to, so you feel confident in taking that first step.
---
Instilling confidence in travel again through Community, Trust and Fun!
Global Experiential Management LLC is proud to announce the launch of GEM Travel Club Beverly Hills, the flagship and first of many GEM Travel Club locations to come. We are committed to reigniting the travel, entertainment & hospitality industries by instilling confidence in travelers once again. We are dedicated to promoting local vendors, suppliers and talent that support those industries in destinations across the United States and abroad, eliminating the guess work when booking travel. GEM Travel Club is a vetted community of industry professionals in each city we promote, designed to connect you personally with our preferred vendors, providing peace of mind travel with a Personal Travel Advisor preparing you ahead of time ensuring you are aware of up-to-date travel news, rules and regulations that change daily across the globe. GEM Travel Club members also receive additional member only benefits & opportunities including virtual and in person travel events, exclusive travel opportunities & discounts, prizes, giveaways and more. Discover more about GEM Travel Club Membership here.
---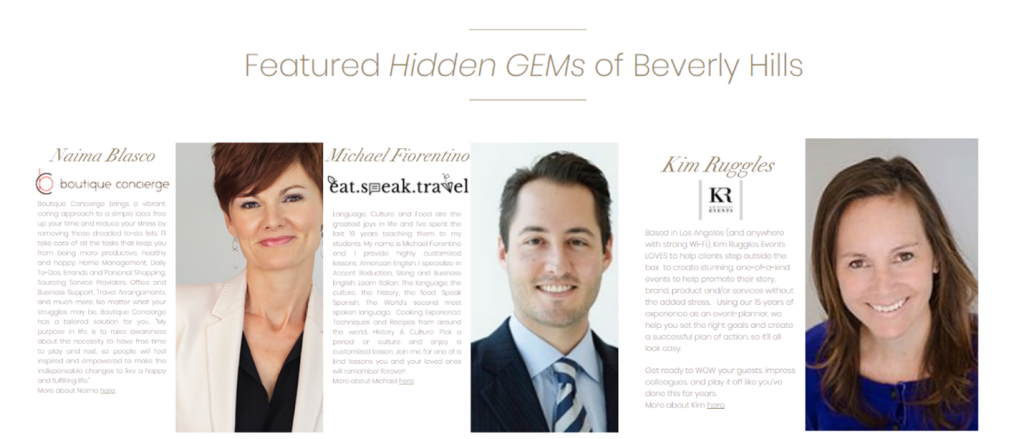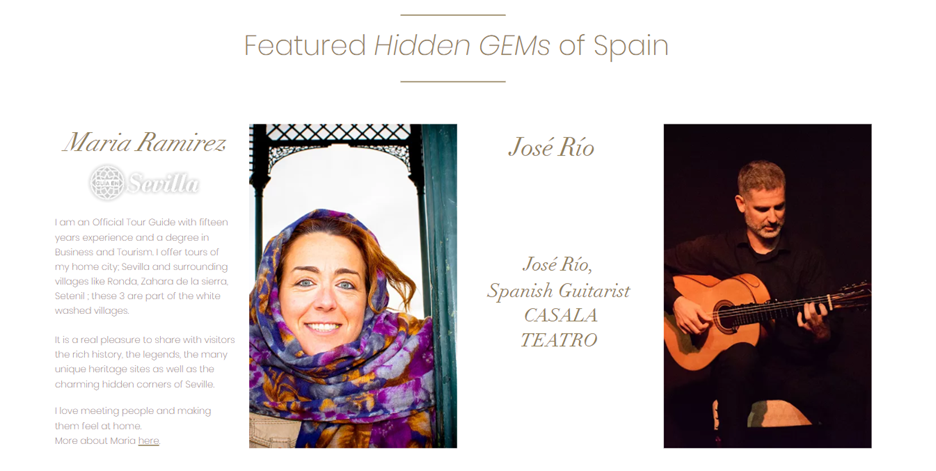 GEM Travel Club Beverly Hills hosts interactive virtual tour of Southern Spain.
We invite you to enjoy our first of many interactive virtual tours reminiscent of gathering around a large dinner table with family and friends; sharing stories with the intent to entice you to want to pack your bags and go. Experience what the future holds for members of GEM Travel Club Beverly Hills as we offer a taste of destinations around the world… starting with Seville, Cordoba & Granada in Southern Spain.
Experience Southern Spain like a local as our Beverly Hills industry experts connect you in real time to real local vendors & talent, showcasing the best of their Spanish region. Whet your appetite as you learn to create authentic Spanish dishes, dabble in Spanish language lessons, learn about their rich culture and enjoy genuine Spanish talent. In this intimate interactive virtual tour, we introduce you to our "Hidden GEMs" of Beverly Hills. Michael Fiorentino, of Eat Speak Travel, submerges your senses as he guides us on a personal tour through the language, cuisine, history & architecture of Southern Spain, while Naima Blasco, of Boutique Concierge, originally from Southern Spain, elevates your experience adding live engagement with her personal friends in Seville and beyond. Get to know our new-found Hidden GEMs of Southern Spain, Maria Ramirez, a Professional Tour Guide (Sevilla) and her good friend José Río, a Spanish guitarist, both from Seville. Learn more about the event and our "A Night in Southern Spain" Hidden GEMs here.
---
GEM Travel Club Beverly Hills Launch Party | A Night in Southern Spain
Interested in discovering more cities in Spain? Join us for our follow-up events where we dive deeper into Southern Spain with Maria, exploring other cities and the coastline, while introducing you to more locals you can connect with on your travels as well as travel options to get you there when the time comes. These fun-filled events are designed to genuinely connect you to the local communities around the globe as we learn to experience the world like a local … and then travel like one! When you are ready, let GEM Travel Club Beverly Hills help jump-start your travel experiences safely with a dedicated GEM Travel Club Advisor who will work to customize the perfect trip for your interests & passions and guide you through the new ways of traveling post-pandemic.
GEM Travel Club future domestic travel events include:
Hilton Head Island, SC – April 2021
Where we share a taste of the Lowcountry's history & southern flavors while highlighting how the locals experience the annual PGA RBC Heritage Golf Tournament. Anyone care to play in the Pro-AM? Travel is currently available to Hilton Head Island. If you are interested, please contact us.
Louisville, KY – May 2021
We're off to the Kentucky Derby like only a local can – from the infield to Millionaire's Row and introducing you to Thurby!
Register for these and other upcoming events here.
Interested in showcasing the Hidden GEMs of your city? Contact us here.
---

Hilton Head Island, South Carolina | Harbour Town
Instilling confidence in travel again through Community, Trust and Fun!
GEM Travel Club Beverly Hills offers curated vacations & travel itineraries for individuals, groups or corporate passengers with exclusive travel packages available only to Club members. GEM is a complete Travel Advisor & Concierge service provider for all enthusiasts from the novice to the experienced world traveler. We cater to every traveler's desire from ultra-luxury with exclusive once in a lifetime opportunities to providing lowest price guarantees for our most cost-conscious adventure seekers. For travel opportunities visit GEMTravelClub.com or for information on future GEM Travel Club events & locations stay connected with GEM Travel Club by subscribing here.
---
GEM Travel Club Beverly Hills creating job opportunities across the United States.
GEM Travel Club is passionate about making travel dreams come true, and even more grateful to make career dreams come true especially during this time. We offer freedom, flexibility and financial security through entry level, work from home (or anywhere), independent travel agent opportunities with a desire to especially support those individuals displaced from leisure and hospitality jobs.
Travelers will be relying on agents more than ever to help book their travel itineraries to ensure they are properly prepared and traveling safely. Even amid a pandemic, there has never been a better time to be a travel agent.
---
Travel-dependent leisure & hospitality is the #1 small-business employer in the U.S.
According to an Amadeus survey on Phocuswire:
"55% of travelers said in 2021 they would travel for 14 days or more, and 60% expected to take only a few trips a year – which suggests that if people travel, they may want to go all out." They also found that "40% of global travelers expect their travel agents to be on hand to problem solve and provide more recommendations. With a considerable amount of uncertainty and quarantine rules changing weekly, opportunities for travel agents to become invaluable and irreplaceable sources of information abound."
U.S. Travel Association's assessment deems travel essential to the American economy and job creation:
"Travel is essential to the American economy, providing an indispensable source of job creation. The travel industry is unique: it is highly dependent on human labor, generally immune to outsourcing and plays a key role in international trade. Given travel's critical role in job creation across the country, lawmakers at all levels should prioritize policies that are pro-connectivity, pro-growth and pro-traveler." Full fact sheet here.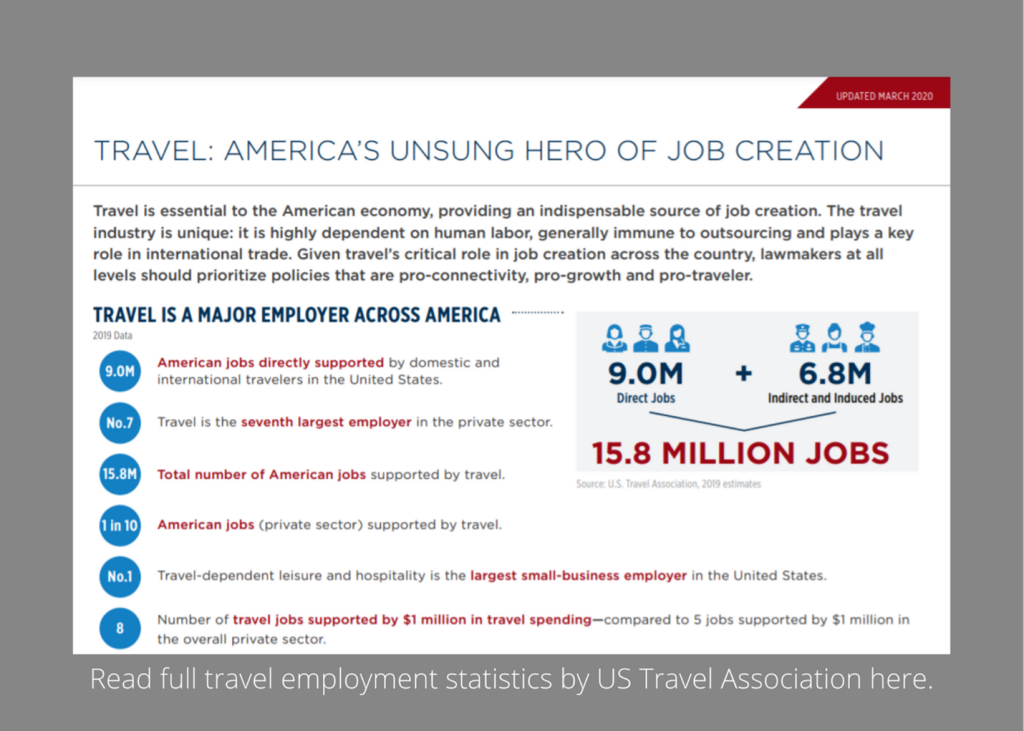 With the anticipation of travel restrictions easing globally, and an expected double digit rebound of travel spending in 2021, we have positioned ourselves to provide job opportunities in the travel industry. We offer income producing opportunities for part-time & full-time Independent Travel Advisors with no professional experience required. If you have ever thought about being a Travel Agent, now is your opportunity at entry level with all training provided.
Are you, or anyone you know, the travel influencer of your group? Do you enjoy exploring the best travel options available? If you find yourself booking travel itineraries for your family and friends, why not make money doing it? Your income potential is up to you. We also show corporate travelers how to earn cash back on your in-house travel bookings, adding cash to your bottom line! For more information visit GEM Careers.
---
Invest in your family's memories…It's time to make new ones!
Join GEM Travel Club and reconnect with family & friends through travel as we rediscover the world together!
View membership benefits & opportunities here.
Limited time only offers available.

Follow our new IG & tag 5 friends for your chance to win great prizes.
Our wish is to make your dreams come true!
Bon voyage…
Michelle Green, Founder | GEM Travel Club Beverly Hills | "Experience the world like a local." | GEMTravelClub.com
Share This Page: