Book debut: The Eating Disorder Trap: A Guide for Clinicians and Loved Ones
Posted by admin on April 22nd, 2020
Categories : Business Features, Health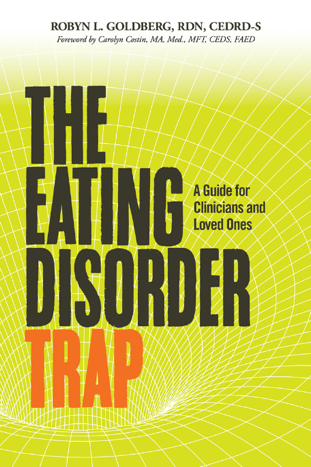 Robyn L. Goldberg, RDN, CEDRD-S, a nutrition therapist and the founder of Robyn L. Goldberg RDN Consulting, brings you her debut book, The Eating Disorder Trap: A Guide for Clinicians and Loved Ones.  
The Eating Disorder Trap combines the latest research as well as the knowledge Goldberg has gathered working in nutrition for over two decades. The book takes readers into the mind of individuals who battle with eating disorders every day and details the telltale signs of each disorder. She breaks myths about the nutritional, psychological, and medical components of eating disorders by translating complicated topics in a user-friendly manner. The book also answers several questions that clinicians and families of patients might ask to better understand eating disorders and the process toward recovery. Goldberg wrote The Eating Disorder Trap as a way to provide a resource for clinicians and other healthcare professionals after seeing a knowledge gap in the medical industry when it came to eating disorders. "There are a lot of clinicians who aren't trained in eating disorders, and they end up diagnosing someone with depression or anxiety only to learn later that an individual is struggling with an eating disorder," says Goldberg.  
 "This is for any clinician, whether it's a dentist or a gynecologist. They could also be a mental health provider, sports coach, religious figure, maybe someone involved in their church or synagogue. I would say anyone living and breathing, it's a book for them." Additionally, Goldberg mentions how important this book is for families because oftentimes, families think they're helping, but end up making matters worse because they're unaware of how to approach the situation. She also wrote the book for those suffering with an eating disorder to help them to develop a deeper insight into their disease.  
If you would like to connect with Robyn for a therapy session, you can make an appointment by calling 310.273.0413 or emailing her at rlgrd@askaboutfood.com.
A Little Bit About Robyn:
Robyn L. Goldberg began her career at Cedars-Sinai Medical Center in Los Angeles as the inpatient dietitian in the Department of Cardiology. Over the last twenty-three years, she has developed her own private practice in Beverly Hills, California, where she specializes in medical conditions, disordered eating, eating disorders, Health at Every Size®, pre-pregnancy nutrition, and people in recovery. Robyn is a Certified Eating Disorders Registered Dietitian and Supervisor from IAEDP, and a Certified Intuitive Eating Counselor. For the last eight years, Robyn was the nutrition counselor for an outpatient eating disorder program and led eating disorder and body image groups at various sober living facilities in Los Angeles. Robyn is a contributing author and nationally known registered dietitian nutritionist. She has been quoted in the New York Times, Huffington Post, the Fix, Shape magazine, Fitness, Oxygen, Pilates Style, Diabetes Forecast, BH Weekly, and Life & Style. Additionally, she has appeared on national television as the eating disorder expert on The Insider. 
The Eating Disorder Trap: A Guide for Clinicians and Loved Ones is available on Amazon.com, BarnesandNoble.com, Shop.BookLogix.com, TheEatingDisorderTrap.com, AskAboutFood.com and through the Diesel Book Store. For more information, visit Robyn's website at: www.askaboutfood.com. 
Share This Page: