10 Tips for Developing a Plant-Based Diet Plan by Dr. Weissbuch
Posted by admin on December 28th, 2017
Categories : "How to's"
Industry : Community
Sanford S. Weissbuch, M.D. – Nutrition Educator and Consultant is a leading Authority on High Nutrient Quality Plant-Based Nutrition
He is a retired Board Certified Radiologist and Neuroradiologist.
Since retirement Dr. Weissbuch, (a health and fitness advocate from his teenage years), has extensively studied advances in human nutrition. He integrates into his teaching the work and research of such nutritional luminaries as Nathan Pritikin, T. Colin Campbell, Ph.D., Dean Ornish, M.D., Caldwell Esselstyn, M.D., Joel Fuhrman, M.D., Neil Barnard, M.D., Michael Greger, M.D., and Steve Blake, Sc.D..
He attended Loyola Stritch School of Medicine in Chicago, graduating Summa Cum Laude and inducted into Alpha Omega Alpha Medical Honor Society
He received training at University of Illinois, West LA VA, UCLA, Children's Hospital LA and LA County USC Hospital.
His undergraduate work was in Biochemistry at Northwestern University, being accepted into Medical School after two years of Undergraduate work.
He did Postgraduate Studies in Medical and Radiation Physics at UCLA.
______________________________________________________________________________________________
10 TIPS FOR DEVELOPING A PLANT-BASED DIET PLAN BY
DR. SANFORD WEISSBUCH
It has been my lifelong desire to bring health and well-being into people's lives!
I am devoting the rest of my life to teaching nutrition, focusing on high nutrient quality Plant-Based Foods. As I see it, good nutrition is the foundation for vibrant, robust and enduring health throughout life! If your New Year's resolution is to become healthier begin with your diet.
A diet rich in high nutrient quality Plant-Based Foods is the best way to avoid or minimize the risk of developing chronic and debilitating diseases.
Species Specific Diet
The reality is that we human beings are Great Apes! The anatomy and physiology of our digestive tracts are essentially identical to Chimpanzees, Bonobos, Gorillas, and Orangutans. We evolved as ground wandering Great Apes (hominids) eating fruits, vegetables, grains, nuts, seeds, tubers, and other rhizome (root) foods for over 20 million years. This diet is our "Species Specific Diet."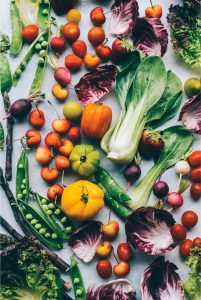 If we feed ourselves our nutrient rich plant-based "Species Specific Diet" – clinical research and epidemiological studies have shown that many of these diseases can be avoided and even improved such as:
Atherosclerotic Vascular Disease
Adult Onset Diabetes (Type 2)
Hypertension (High Blood Pressure)
Dementias (Vascular and Alzheimer's Types)
Many Cancers
Chronic Constipation and Diverticular Disease
Inflammatory and Autoimmune Diseases
Helpful Hints to Make the Switch
1. Have a reason for switching – it can be environmental, health, or compassion for animals. This will keep you motivated knowing you are doing it for your specific reason.
2. Read up – before starting anything new, read as much as possible about whatever it is that you'll be doing. Check out a couple of good books from the library (or better yet, borrow from vegetarian friends). There are also tons and tons of good sites on the Internet. One of my favorites is allrecipes.com
3. Find Recipes – check out some websites for vegetarian recipes and build up your collection of recipes you like. Try to incorporate at least one new recipe a week and keep your favorites.
4. Meal prep – knowing how much food you need during the day and prepping for the day or week makes the transition so much easier. Cooking at home not only helps sustain this lifestyle it helps your wallet.
5. Don't go cold turkey – gradually reduce your meat consumption during the week. There's no need to give up all meat at once. Try a few new recipes, maybe eat one vegetarian meal for the first week, two for the second, and so on. If you do this, start with red meat, as it is typically the least healthy.
6. Then the other meats – after a couple of weeks of going without red meat, try cutting out pork for a couple of weeks. Then cut out chicken, then seafood. With this two-week approach (and you can even make it 3 weeks or a month for each stage if you want to go more slowly), you'll hardly notice the difference.
7. Tell your friends & family – having support makes the switch easier because you will be going to gatherings together and if they know you don't eat meat sometimes they'll prepare a dish for you. Some people might have a hard time with it. Just try to explain it to them, without getting defensive or argumentative, and ask them to be understanding (and maybe to give some of your food a try). Don't try to force vegetarianism on anyone, or sound preachy, but do give them more information if they're interested.
8. Cook ahead – planning your meals ahead of time makes the switch a lot easier. A quick fix is having a pot of vegetarian chili or soup on hand when you want a quick fix. If you plan on going to a party or gathering prepare a vegetarian dish be sure to let the host know.
9. Vegetarian snacks – your new metabolism is working so efficiently that it is important to eat snacks throughout the day. Fresh cut veggies or fruits are an easy option but find some snacks that work for you.
10. Have fun – most of all, don't make becoming a vegetarian be a restrictive, grueling ordeal. If you feel like you're depriving yourself, you won't last long. But if you feel like you're doing something good, and trying out some great-tasting food, you'll stick with it for much longer (for life, hopefully). Have a great time along the way.
If you wish learn more about the benefits of a plant-based diet Dr. Weissbuch would be delighted to help!
(310) 795-4096 | Email: ssw@greatmerchants.com
Share This Page: